Excavating excellence
Czech contractor Metrostav is on track to meet the planned opening of a road tunnel in remote north-western Iceland, thanks to the record-breaking performance of a Sandvik DT1131i tunnelling jumbo and iSURE tunnel management software.
Czech contractor Metrostav recently achieved a record-breaking 105 metres of tunnel excavation in just six days. While records are nice to set, it's the consistent performance and progress that should see the Dyrafjordurgong tunnel – a vital transport link for this remote corner of Iceland – open on time and on budget. When complete, the 5.3-kilometre Dyrafjordurgong tunnel is set to make the biggest impact on the regional Dyrafjordurgong tunnel economy since the opening of the 9.1-kilometre Vestfjardagong tunnel in 1996. As such, the entire community is keeping a close watch on how the 69-million-euro tunnel is progressing by way of weekly updates to a Facebook page. So far, residents like what they see. The road is due to open in September 2020, and Metrostav is well on its way to meeting that target. Josef Malknecht, Metrostav project manager, explains that the operation is a numbers game with many variables. "We work around the clock in shifts, six days a week," Malknecht says. "Each round of planning, drilling, charging, blasting, clearance and reinforcing takes around seven hours. We have completed a round in as little as 6 hours and 16 minutes, and we aim to achieve a minimum of five metres progress on each round." To achieve its targets, Metrostav needs a drilling jumbo capable of consistent performance with a minimal interruption. While the record-breaking week of 105 metres was welcome, Malknecht explains that consistent progress is the most important goal, because with a single-face operation, any equipment problems bring the entire operation to a halt.
"We plan for 80 metres progress per week, but our goal is to achieve consistent weekly progress of 90 to 95 metres over the long term," he says. "Time is short, and any breakdown can undo weeks of good progress, so for this project we need a machine we can rely on." The team chose a Sandvik DT1131i as its sole tunnelling jumbo for the project. From a management perspective, the rig is attractive because one operator can control the whole drilling process with multiple booms, while buying a brand-new machine further reduces the risk of trouble.
"
We can take the data from the actual drill, look at the penetration rate and learn something from the drilling to improve things next time.
"Things work differently here," Malknecht says. "There are not many people in Iceland, and everyone is used to doing many different jobs." Malknecht is no stranger to the challenges presented by working in the high north. Between 2013 and 2017, Metrostav completed a 7.6-kilometre road tunnel in a different part of the country before turning its attention to the Westfjords. "For at least three months of the year, access roads to the southern portal are usually closed, with scheduled opening windows of just a few days every four weeks," Malknecht says. "With transport options limited, we have to stock up on supplies and pay close attention to maintenance and the reliability of everything we need. We used Sandvik rigs on our previous tunnel project, so we knew we could rely on them as a partner for this project, too." Metrostav site manager Tomáš Janoušek has nothing but praise for the performance of Sandvik DT1131i. "Our operators are able to manage multiple booms from a single comfortable position," he says. "This is important for us as a small team."
Sandvik solution
One Sandvik DT1131i tunnelling jumbo, which is suitable for tunnels of 20 to 177 m2.
One Sandvik DT1130-SC is available as a backup rig.
Engineers use iSURE tunnel management software to create the drill patterns and blast design and to analyze feedback from Sandvik DT1131i.
Metrostav also makes use of Sandvik rock tools including shank adapters and couplings. The new Sandvik drill bits were tested in February.
Service is provided via the Sandvik global support operation in Reykjavik, Iceland's capital.
The mountain through which the tunnel is being excavated is principally basalt, the most common volcanic rock on the planet. Although the rock isn't tough, there is a lot of variety, from coarse crystal several millimetres wide to much finer-grained basalt. Some less-common minerals, including chabazite and the calcium-rich thomsonite, have been found in cavities and pockets within the basalt. This means the team needs a process in place to analyze the rock and the profile following each blast. "The geology gives us a helping hand, but our success is down to a combination of many things," Janoušek says. "We are well organized, and everyone knows their jobs. We have a good drill from Sandvik, but what makes the whole operation even more productive is iSURE software. It enables our people to do their best work, especially at the points where the tunnel shape is changing."
Land surveyor Lubomír Krchňavý says iSURE software is a major improvement on what he had used previously. "It's a more modern software with improved functionality, but most importantly it's much more accurate," he says. "We make one drill pattern, and then it is very easy to modify that to make another," he says. "We can take the data from the actual drill, look at the penetration rate and learn something from the drilling to improve things next time."
Within the tunnel project, iSURE automatically creates folders for the curve table, tunnel profiles, drill plans, navigation laser data, navigation sets and related files such as photographs. For a team that makes full use of the software, that's another important time saver. Sandvik's Ari Laitinen, business development manager, Underground Drilling, says he is pleased to see a customer getting the full benefits from the combination of Sandvik DT1131i and iSURE drill and blast design software. "It is nice to see customers make the plan at the bottom of the blasting round, gaining the full pull-out and good profile quality after blasting," he says.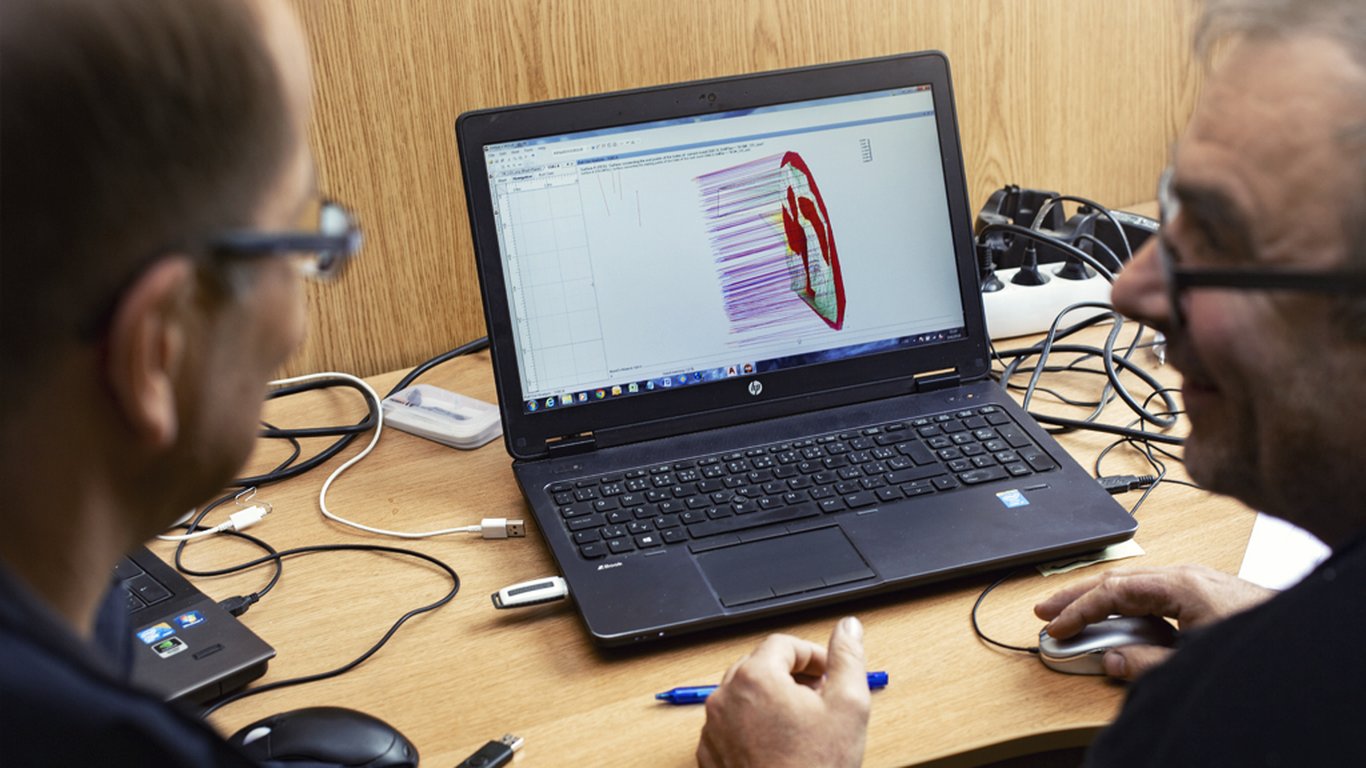 Laitinen is also pleased to see the customer consider the total cost of ownership. "Metrostav sees beyond the net penetration rate," he says. "The reliability and durability of the rig and the ease of preventive maintenance routines means the availability of Sandvik DT1131i is high. On a project such as this, where consistent progress is so important to success, that makes a huge difference to the total project cost. Metrostav needs the best-performing equipment with the highest availability to deliver the project on time while turning a profit." "Our last project in the north actually benefited my hometown," Gylfason says. "Since opening, there has been 50% more traffic using the tunnel than originally forecast. It's partly tourism, but partly the increased economic opportunities. The two small towns linked by the tunnel can now work together effectively for the first time." "Here in the Westfjords, this tunnel will save around 25 kilometres of driving," he says. "That might not sound like much, but it's a mountainous, partly gravel road with high winds and frequent snowfall. Journey time will be cut by up to 45 minutes."