A flexible future
WALHALLA, USA. A new dual powered mobile crushing plant has more than doubled aggregate production while improving product quality and creating unprecedented versatility for one of the only government-owned quarries in the USA.
Six mornings a week, dozens of dump trucks wind up the aptly named Rock Crusher Road to the Oconee County Quarry.
Located outside the town of Walhalla in north-western South Carolina, near the Georgia and North Carolina borders, the county-owned quarry produces blue granite, South Carolina's state rock.
Not only does the quarry make aggregate for county government needs that include road building, storm drainage and slope protection, it also serves more than 600 local customers, who range from paving and grading contractors to rural residents who just need a little gravel for a driveway.
"We're able to support local government needs as well as the needs of the local citizens," says assistant manager Thom Moxley. "We're very proud of that."
An ageing crushing plant left the quarry struggling to satisfy demand in recent years. The 30-year-old stationary plant could only produce 270 tonnes of crushed stone per hour running at full capacity, and it often wasn't running at all. Unscheduled downtime took a toll on production.
"We had got to the position where we were running our plant to try to meet production needs and not having enough time to do the preventive maintenance that we needed to do," Moxley says.
Moxley, colleagues at the quarry and the county administrator began discussing and researching replacement options in early 2017, comparing both stationary and mobile plants. Moxley and crew leader Billy Buchanan, who started working at the quarry within a week of each other six years ago, traveled to Sweden to inspect a dual power mobile plant in 2017.
"It's a real shift in the way of thinking; instead of taking the rock to the plant, you take the plant to the rock," Buchanan says. "The efficiency of that plant was impressive."
In February 2018, the Oconee County Council green-lighted 7.5 million US dollars in improvements to the quarry. Quarry staff recommended the purchase of a mobile crushing plant, and the county initiated a request for proposal (RFP) process.
Oconee County Quarry
In operation since 1948, the Oconee County Quarry sits on 40 hectares in rural north-western South Carolina. The quarry sold approximately 480,000 tonnes of stone in 2019 and is currently permitted through 2050, with rock reserves estimated to last until around 2100.
The quarry needed a plant that would produce at least 590 tonnes per hour of finished product, including at least 180 tonnes per hour of one-inch #57 aggregate.
"Those were the stringent requirements that we had to meet for Oconee County to feel like we could make this investment," Moxley says.
The quarry also required the plant to be able to produce several other products, including #789, class A riprap and asphalt sand. The crusher run had to meet South Carolina Department of Transportation specifications for gradation in order to be used on state roads, and both the #57 and #789 also had to meet state specifications for flat or elongated particles.
Moxley and his colleagues were also intrigued by the flexibility of a plant that could enable the quarry to freely alternate power supply between onboard diesel generators and the main electric network.
"Dual power machines were very attractive to us because we can be most efficient if we are on the grid," he says. "But certain times it's costly to be on the grid, so we could manage the different operations using diesel over electric so that we can stay off the grid during peak times. The electric is quieter, so there's a lot of things that helped us ultimately be able to justify the dual power system."
The Oconee County Council awarded the RFP to Sandvik, whose solution included a five-year extended warranty, local dealer service support, scheduled equipment inspections and comprehensive operator training.
"We just felt through the whole process that Sandvik's technology was on the cutting edge and they make a very durable, strong product," Buchanan says. "All the companies in the RFP sent us offers of their solutions, and Sandvik actually sent us four options. The one we went for has provided some solutions that we never asked for, and the potential to grow. In the future the quarry might need more capacity. Sandvik was looking out for us."
The quarry invested in a mobile plant primarily because it provides pit design flexibility. The
new plant can be relocated indefinitely, enabling the quarry to size, crush, screen and stockpile as close to the face as possible.
"We're not ever going to be in a situation again that we have a stationary plant sitting on rock that we need to mine," Buchanan says.
"
Instead of taking the rock to the plant, you take the plant to the rock
Moxley expects the plant to eventually reduce the operation's diesel budget too.
"Ultimately, when we get our quarry in a position to accept the equipment that we have, we can accommodate the customers there and it's going to decrease the amount of trucking and equipment necessary to give the customer what they need," Moxley says. "When the time comes, we can just move our plant and we won't have to redesign a plant or start all over again. We'll just go to a different footprint."
Sandvik engineered the new diesel-electric mobile plant to a 480 V voltage and 60 Hz frequency to work with North American mains electric power.
The county upgraded the electrical system to provide the required voltage to support the new mobile plant, which was commissioned in November 2019 and consists of a Sandvik UJ640 primary mobile jaw crusher, a Sandvik US550E secondary cone crusher, a Sandvik UH550E tertiary cone crusher, two Sandvik QA441e Doublescreens and three mobile stackers. All mobile crushers feature Sandvik's renowned crushing technology at their core.
"Each of those models were considered for growth and to be able to network with other pieces that may come into the puzzle, or other models that may be added to our plant, so it was a very well thought through process that the whole Sandvik team worked on," Moxley says. "Sandvik ensured that the jaw was not going to be the bottleneck in our operation. We can actually grow with the jaw over the coming years. We wanted about 590 tonnes an hour, which was going to more than double what we make now, and we feel like there's 770 there in the future."
The quarry's Sandvik UJ640 features an optional 18-cubic-metre feeder hopper extension to enable faster loading and provide a surge pile to ensure a continuous feed to the Sandvik CJ615 single-toggle 1,500-by-1,100 millimetre jaw, maximizing throughput and efficiency. The unit is also fitted with an optional Sandvik breaker and boom for clearing blockages and removing bridged rock.
"It is a very deep jaw that can accommodate a larger 97-centimetre single-grain stone," Moxley says. "The design of it has been in such a way that all of the vibration is absorbed through the track system. And with it being up-sized and not having to work as hard as a jaw would have to work, it just methodically does its work without very much effort. We feel like the jaw could actually have a larger excavator to feed it. It's producing so quickly."
Until the quarry opens its face, material from the jaw is trucked from the base of the 90-metre pit to a stockpile, where a large wheel loader feeds Sandvik US550E. The secondary crusher's dual interlocking and intelligence system is integrated with Sandvik's Automatic Setting Regulation (ASRi) control system to automate process optimization and help predict maintenance issues, maximizing uptime.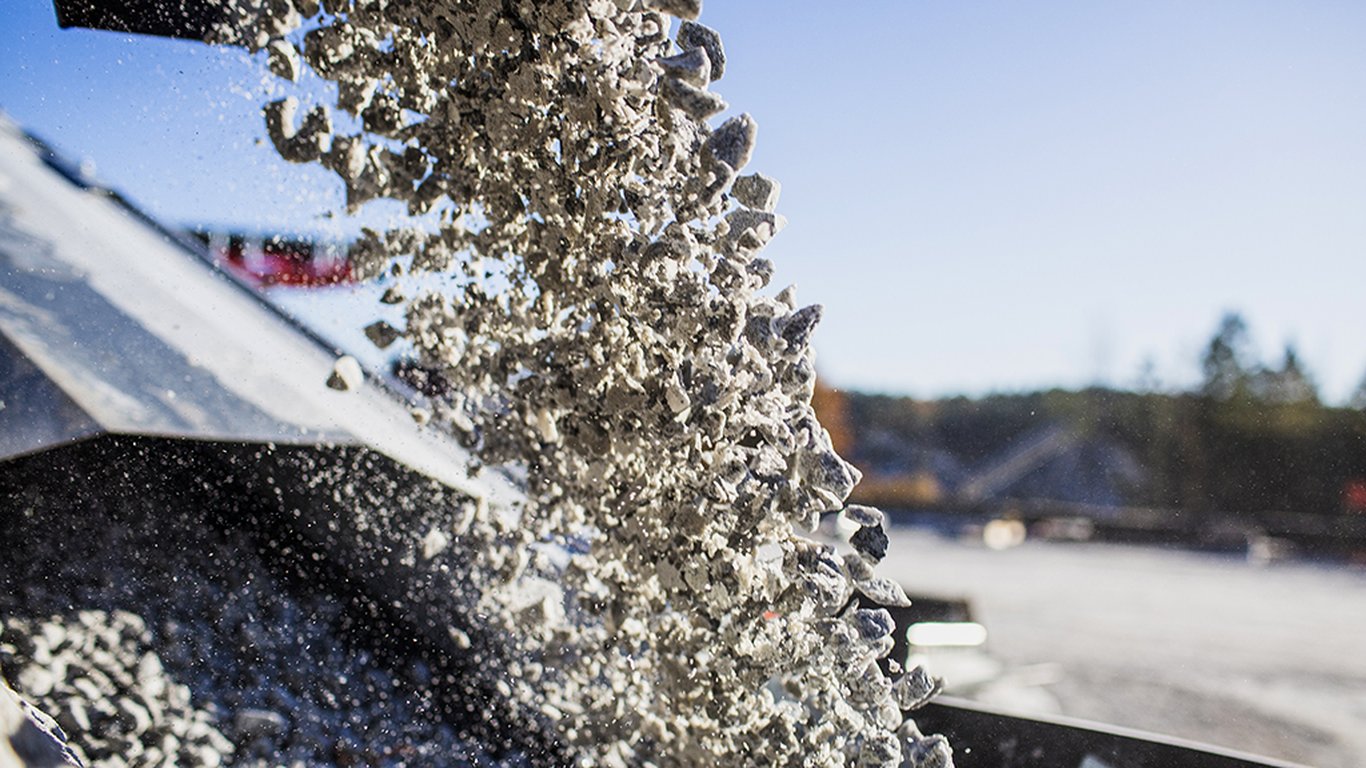 "The Sandvik plant is really something you can just set and forget," Buchanan says. "We are confident in the ASRi system that it's going to help us monitor. It's made life easy. There's very few manual tasks that we have to do anymore, and all that is available through technology Sandvik offers."
Sandvik US550E feeds into Sandvik UH550E. Both cones feature a box that enables the quarry to make a final product.
"We don't even have to push it forward to our screeners, so that gives us even that much more versatility," Moxley says. "We're actually thinking about possibly adding a product or two maybe that we don't currently  produce."
Not only have the reduction ratios of the secondary and tertiary cones impressed the quarry, but Buchanan, who oversees its quality control program, says the stone produced by the new mobile plant is measurably more cubical – an essential characteristic for road sustainability.
"We have to hit our production goals, but also equally as important it can't be flat or elongated," Buchanan says. "We have multiple studies that show that roads will deteriorate much, much quicker if they're flat or elongated products. The feeder on the Sandvik cones has a level sensor. It takes out the possibility of human mistakes. The feeder is always going to provide the cone with the exact same amount of rock, the exact amount of rock it needs to make sure that it's crushing rock on rock and getting a cubical product. With the old plant, it was simply impossible."
The ability to choke-feed the new cones more efficiently has virtually eliminated the issue.
"Our flat and elongation rate on our old plant was roughly 14 percent," Buchanan says. "With the Sandvik product so far, we're around 4 percent. A massive improvement."
A splitter chute mounted on the back of two Sandvik QA441e screens divides material from the tertiary cone and, in conjunction with the patented Doublescreen system, enables the quarry to produce #57 and #789 simultaneously.
Each of the three 24-metre mobile stackers ultimately creates a 5,400-tonne stockpile.
"That reduces the need to move the product," Moxley says. "We can actually sell directly from there."
Two months after decommissioning the obsolete stationary plant, Moxley says the new mobile plant is providing unprecedented versatility for the quarry.
"We can concentrate on products and we can push materials in a different direction to optimize the output for the production that we need," Moxley says. "We find new things daily that we're capable of doing that we didn't have the ability to do in the past. Modern technology is amazing. We're very fortunate now to have a new plant that can more than double the production that we were making."
Buchanan echoes Moxley's sentiments.
"We were looking to better ourselves through technology and I think that's what we have with Sandvik," Buchanan says. "I've been very pleased with Sandvik. It was fantastic from the start and I'm very confident with our relationship going forward. We looked at several companies and Sandvik had the best products. Plus, I'm very confident that we have a partner that is going to take us for the next several decades."