Correct the comminution
How will an industry that extracts our planet's raw materials become more sustainable? To make meaningful change happen, it's time to tackle one of the world's biggest users of energy: comminution.
Progress has been made throughout the mining and aggregate industries to reduce emissions. But as the world's population soars and urbanization continues as a global trend, demand for raw materials continues to rise. Access to those raw materials is becoming ever more challenging, so the importance of sustainable practices is increasing.
Sustainable economic, environmental and social development is vital to meet the needs of today without compromising the ability of future generations to do the same. To maintain our current way of life, more raw materials need to be extracted and processed, consuming more energy and water and producing more waste. As we mine deeper for lower-grade materials, the problem compounds. Balancing this need for materials with the need to reduce energy use and conserve water is a major sustainability challenge.
While the concept of sustainability in an industry that extracts raw materials is something of a paradox, further environmental improvements are possible in mining and aggregates. For these industries, addressing comminution, one of the world's biggest users of energy, is a good place to start.
Comminution — the process of reducing rock size — is required to extract valuable minerals for processing and to upgrade the ore for industrial applications. It starts with blasting followed by crushing and the grinding or milling of the mined rock. Mining is an energy-intensive industry that uses around 7 percent of world's generated energy. Of this, almost half goes to comminution. Innovation is needed to reduce energy consumption from the currently inefficient comminution process.
"
If the crushed product can be downsized to 6 millimetres from 12 millimetres, it would be possible to reduce the energy consumption in milling by 20 percent.
As a key technology partner to the industry, Sandvik has an important role to play in leading the change. Since 2011, Dr Hamid-Reza Manouchehri has worked at Sandvik to improve eco-efficiency and productivity with respect to energy and water use in comminution. He believes that for a more efficient comminution process, you have to look at the entire value chain, and that starts before you even begin to drill. "With 2 percent of energy consumption but 15 percent of total operational cost, blasting is the most energy-efficient comminution process," Manouchehri says. "But we can still make improvements that benefit the processes further down the chain. A good-quality blast creates good fragmentation, which reduces the cost of transportation and makes crushing more efficient and productive," says Manouchehri.
Sandvik Mining and Rock Technology has introduced a new adapter to improve the level accuracy of drilling, with promising results so far. Straighter drilling preserves energy and reduces cost while giving better fragmentation. Drilling at even a slight inclination means you have to drill more and work longer to stay on track. A detailed study revealed that over an eight-year mine life, the adapter could reduce the drilling required by as much as eight kilometres and improve blast quality, reducing haulage cost and energy consumption in subsequent comminution processes.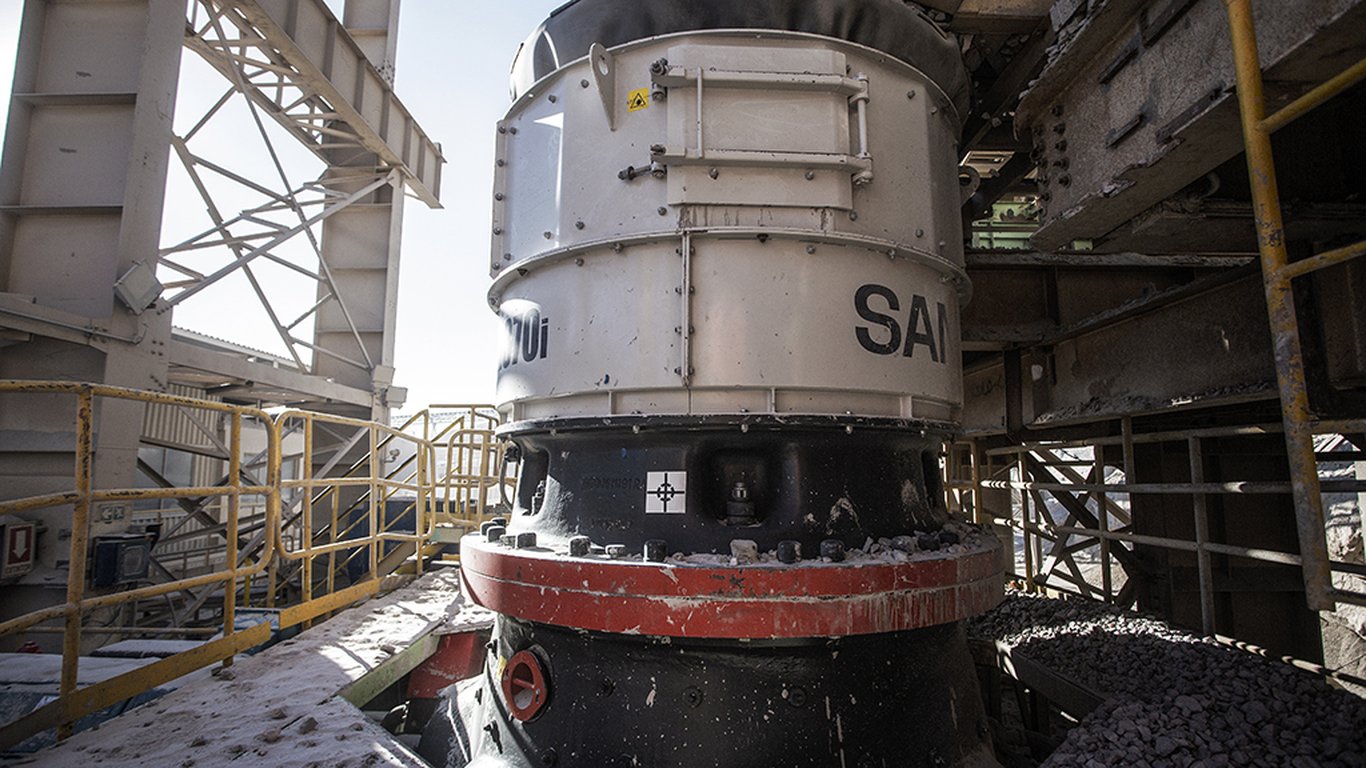 Another area for improvement is obtaining data from the response of the drill bit with respect to the rock. Sandvik develops measurement-while-drilling (MWD) technology to reveal information about the chemical composition of the rock to complete characterization and improve the planning process. Such data enables smart blasting. "Designing a blast pattern based upon chemical and physical characterization of the rock means you can end up with smaller fragments of the high-grade ore, with the remainder blasted coarser," Manouchehri says. "Smart screening or bulk sorting can remove the larger particles, reducing the amount of material to be crushed, milled and processed. This reduces energy consumption and increases recovery in downstream processes, benefiting productivity and costs."
Grinding and milling is expensive and not energy efficient, especially when compared with crushing. Energy efficiency in milling is no greater than 5 percent, whereas crushing can be at least 10 times more efficient and cost effective too. From the perspective of both sustainability and cost, it is logical to steer the comminution process towards blasting and crushing whenever technically possible. That opens a great window of opportunity for Sandvik Mining and Rock Technology to develop solutions in these areas.
Sandvik has designed breakthrough crushing technology with smart automation systems to improve productivity and efficiency in fine crushing. The automation system allows automatic adjustment of the crusher to deal with hard rocks, which can increase productivity by as much as 4 percent. New powerful crushers, such as Sandvik CH860i and Sandvik CH865i, can transfer higher pressure (30 percent more than similar classes of crushers) to deal with hard and competent rocks. By providing smaller-sized particles for the milling stage, a considerable amount of energy can be saved.
Researching a sustainable future
Sandvik is leading or involved in a number of international research projects with universities and mining companies to increase sustainability in rock processing. These include evaluating and testing pre-weakening microwave technology to make the crushing and milling processes less energy-intensive, and developing a proof of concept for dry eco-efficient comminution processes.
If the crushed product can be downsized to 6 millimetres from 12 millimetres, it would be possible to reduce the energy consumption in milling by 20 percent. Doing that also helps minimize wear, reducing operational costs.
Attempts have also been made to develop efficient flowsheets by making use of different assisted technologies. Technologies such as microwave irradiation, high-energy electric pulse, ultrasonic treatment and even implementing plasma technology for pre-weakening rock have all been tested. "Microwave or high-voltage electric pulse technology can create micro-fractures in the rock, weakening it to make the crushing and milling processes less energy-demanding," Manouchehri says. "I think we'll see rapid development of microwave technology in the mining industry over the coming years."
While reducing energy use is crucial, it's not the only sustainability issue. Comminution also requires large amounts of water. While many mines make use of wastewater treatment facilities, the better option is to reduce the need for water in the first place. "Over the last 70 years, average annual availability of water has dropped from around 4,000 cubic metres per person to just 1,000 cubic metres per person," Manouchehri says. "Yet the mining industry uses between six and eight billion cubic metres of water every year. Much of it is used as the first grinding aid during milling because it's effective and easy to handle. However, water scarcity and the potential of polluting the wastewater during milling means there's a clear industry trend towards dry comminution."
Sandvik Mining and Rock Technology is working with European partners to prove the concept of a dry eco-efficient comminution process. "I believe this dry process will reach the market and find its place within the industry," he says. "However, in order to achieve full eco-efficient comminution, each comminution process from blasting to fine grinding must be integrated and considered as one chain."
With the planet's available resources becoming ever more difficult and expensive to access, some in the industry are looking to the far future to answer the sustainability questions of today. Advances in the oil and gas industry and related fields such as offshore wind could make subsea mining economically viable in the near future. Longer-term, asteroid mining could move from the pages of science-fiction novels to a genuine possibility. For either model to become viable, complex multidisciplinary research and development projects are needed.
Of course, short-term solutions are needed too, but even here the answers may lie outside the current mining research environment. "We need to be more innovative to make alliances beyond the current mining research infrastructure," Manouchehri says. "The global nature of the industry can provide a framework to build the multidisciplinary, team-based approach for successful R&D and innovation."
Measurement-while-drilling with OptiMine
Sandvik OptiMine Drill Plan Visualizer shows existing plans and actual drilling results in a 3D format, including measurement-while-drilling (MWD) data, when available. MWD data is also available in 2D graphs for more detailed alternative analysis of the drilling results. Editing of new drilling plans is convenient and quick.