Embracing History With Automation
Boliden's mine in Garpenberg in the middle of Sweden is the country's most productive and oldest, still active mine. Here, Sandvik's AutoMine® system used with the automated Toro™ loaders enable Boliden to ramp up ore production, attract a new type of operators, and become one of the world's most modern mine sites.
"You need to take your shoes off once we enter this area."
As guests, we're caught off guard upon being asked to take off our shoes 1,054 meters below the ground's surface. Normally, being in any mine would entail wearing some kind of steel-laden safety shoes – at all times. But here, in the automation room, socks in rubber slippers are the latest fashion, and requirement. 
Deep down in Boliden's mine in Garpenberg, Dalarna about 180 kilometers west of Stockholm, we step off a very industrial-looking elevator that's just plunged us more than one kilometer straight down into the mountain, and onto the automation level. 
The Garpenberg mine is Sweden's oldest, still active mine. In fact, there are archeological findings in the area pointing to mine activity as early as 375 BC, and the town of Garpenberg even has an old mine chapel from the early 1600s – the only surviving one left in the country. Because of how dependent the Garpenberg village was on the success of the mine, all the villagers were obligated to go and pray for the mine workers every week. Today, the chapel is mostly used as a museum.
Boliden took over production in 1957, but due to dire times during the 1990s, the mine faced risk of closure. Like a gift from below, Lappberget – a record-sized ore deposit – was discovered as a result of a highly successful prospecting effort. Thus, a new production facility was inaugurated in 2014, which meant that production could ramp up to 1.5 million tons of ore annually. It also allowed Garpenberg to invest in modern mining solutions, with automation from Sandvik central to their progress. 
Controlled from a distance
Before entering the automation room, all of our Personal Protection Equipment (PPE) gear, like the emergency breathing masks, steel-toe shoes, hard hats and high-vis jackets, are removed. It's not exactly a room, either; it's an impressively large, almost fully-tiled office space. The Sandvik automated loaders located more than 500 meters further down into the mine, are controlled from here. This is where more experienced miners collaborate with younger adepts – Nathalie Bergström, Product Technician, and Felix Salåker, Operator, are two of them. 
Both Nathalie and Felix have extensive experience operating huge machines like Toro™ LH517i and LH621i loaders from Sandvik. Today, they're able to do so from the comfort of a control room, where arched screens and double joysticks connected to the armrests of the ergonomic Sandvik control chairs serve as work tools. Here, operators are far away from blasting areas and the machine operating zones. Having AutoMine® on the loader fleet has enabled mine workers to relocate from the immediate mine production environment, to a safer working environment while also improving productivity and efficiency at the same time. 
"The biggest difference since we implemented the AutoMine® system is that I can control everything from a safe and comfortable distance," says Felix. Nathalie agrees, since "it helps put safety first and enables us to optimize production. You can also operate several machines at the same time, which leads to a larger amount of loaded and hauled tons via automation," she says. 
"
"Automation helps putting safety first and enables us to optimize the production"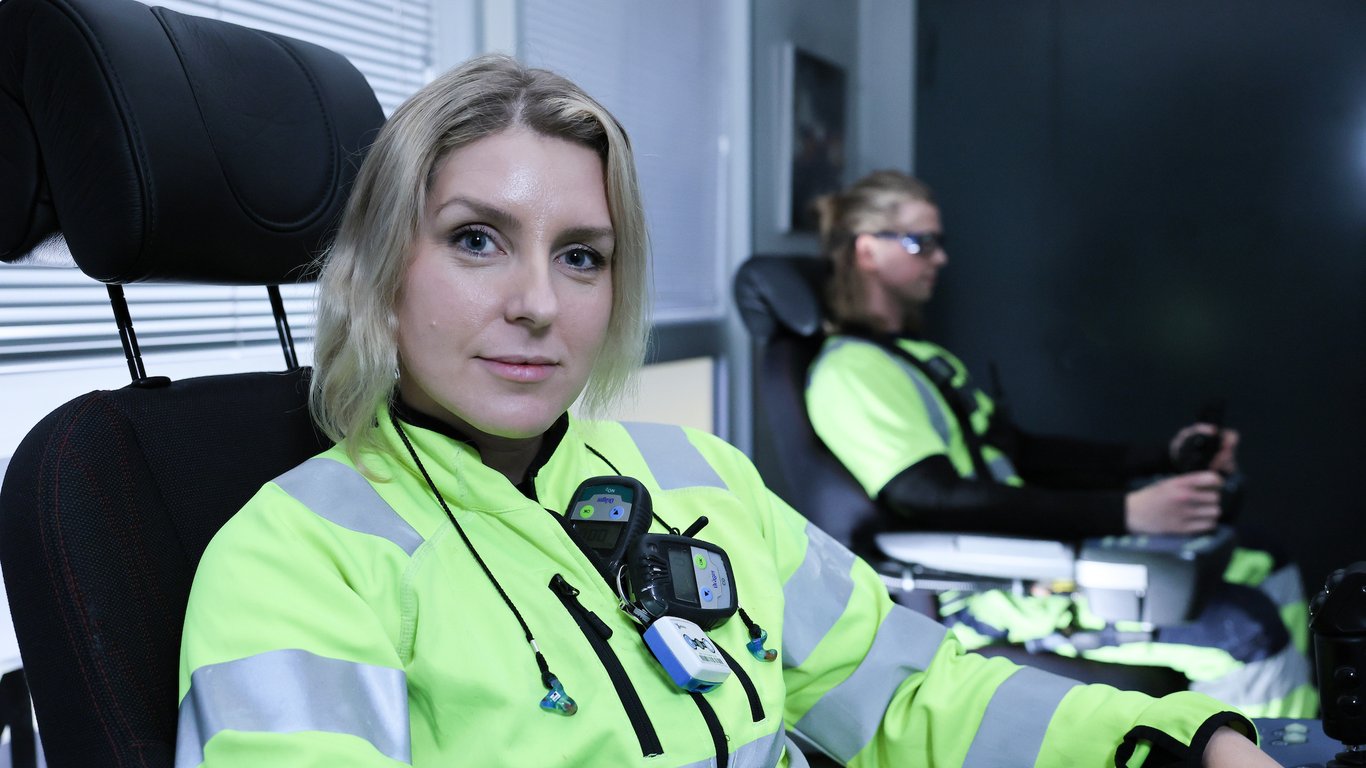 Increased productivity
Apart from keeping the operators in a much more comfortable operating area, AutoMine® has enabled a mine like Boliden-Garpenberg to manage a majority of their ore handle via automation.
"It depends on the shift and week, but we usually handle ore between 80 and 100 percent of the tonnes via automation," says Andreas Boquist, supervisor of the automation team. For him, it's the long-term collaboration and development of the AutoMine® system together with Sandvik that's made all the difference. "It's been an incredible journey. I've been at Boliden-Garpenberg for 15 years, and automation has changed everything. It has really made it possible for us to attract a different type of operator talent that we haven't had before, so that's brought on a completely new type of diversity amongst our crews."
The diversity is also noticeable at the automation control room. Here, tradition meets modern solutions, and mine workers with decades of experience can teach and learn from the new, diverse generation of operators coming to Boliden-Garpenberg.
"
"We usually handle ore between 80 and 100 percent via automation"
For Andreas Boquist, it's all about the HTO concept – human, technology, organization – when transitioning to automation in any mine environment. "If you don't have these three, you're not going to be able to optimize functionality and productivity. We knew early on that operators are the ones who are able to contribute with the most valuable feedback to Sandvik," Boquist says. "Together with Sandvik, we have pushed the limits and the advanced technology; only 12-13 years ago, we sat outside the production area in a van with a cable hooked up. Nowadays, we have this advanced, brand new facility underground where we can collaborate and explore new ways of working together. We help each other, and there's a very large social aspect to it as well."
What are your thoughts on the future of automation?
"I see less and less hands-on involvement for our operators. The machines will do the work, and we will supervise."
Caroline Kuiper is the mine manager in Garpenberg, and sees automation as an important investment for the future, since it's clearly increasing productivity and safety in daily work. "For safety reasons, we can't have people in our open stopes, so we rely on automation. There's also no doubt that electrification of mining machines will help us reduce our CO2 emissions."
Kuiper agrees with Andreas' thoughts on recruiting new employees. "One of our key challenges is to recruit people. Automation has helped us attract a new type of applicants to our operation."
First battery loader in 2023
In the second half of 2023, Sandvik delivered Garpenberg's first battery loader, the 18 tonne Toro™ LH518iB. A big step in electrifying the mine. As automation is already established, looking towards electrification and building a battery electric vehicle (BEV) fleet is on the agenda for many mines around the world. 
Only recently has there been enough advancement in batteries, Boquist points out. "Like many other industries, we're of course looking more and more into BEV's. It's a great way to reduce emissions by electrifying loaders, trucks and drill machines."
From the automation control room, Nathalie, Felix, Andreas and all the other operators will keep working with Sandvik's Toro™ loaders by means of AutoMine®. Together with Sandvik, they're able to tweak things based on their own needs. When asked about what's missing from AutoMine®, Felix's answer might just be the ultimate stamp of approval: "I'd say we're down to the nitty gritty in terms of developing and requesting things. It's actually perfect the way it is."
BOLIDEN-GARPENBERG MINE
Acquired: 1957
Employees: 430
Mine depth: 1,500 meters
End products: Zinc, copper, led concentrate, which is then refined in a smelter into pure metal.
Production: 3,0 Mtpa (2022)
Did you know? Garpenberg has 46 rescue chambers containing sufficient air supply to support whole underground workforce in a case of an emergency.