Pioneering Mine Automation in South Korea
Perhaps best known for hosting the 2018 Winter Olympic Games, mountainous eastern South Korea is now home to the country's first automated mining truck. Since implementation, the truck has proven its reliability, carrying load after load of limestone from underground to surface.
As the Toro TH545i underground dump truck makes its way steadily down the mine's tunnels, operator Jeon Young Jun takes a sip of his morning coffee. Knowing that the automated truck does its job safely and without a hitch, he can relax in front of the AutoMine monitors.
Outside, the temperature is 15 degrees Celsius below zero, but here in the control room it's nice and warm. If it wasn't for the hard hat lying on a table next to the door, and the Sandvik calendar on the wall, you wouldn't be able to tell that this was the control room for a limestone mine. It's as tidy as any urban office space.
Seongshin Minefield's Toro TH545i is the first automated dump truck in South Korea. It has gained a lot of interest from other mining companies who come for study visits to see and learn how the equipment performs.
The automated truck has greatly changed Jeon Young Jun's working day. Before it was introduced, he spent most of his days behind the steering wheel in a manually operated truck, driving up and down the mine's tunnels. Nowadays he mostly sits comfortably in a chair behind the screens in the control room, monitoring operations. So far, he only operates one automated truck, but within a few months another Toro TH545i will be added to the fleet.
As the truck approaches the loading bay, Jeon Young Jun explains how simple it was to learn how to operate the AutoMine system.
"It might differ from person to person, but in my case, it was easy. I had been driving the truck manually for one year, getting used to the machine, so it was quite easy when I first looked at the control panel. And since I'm part of the computer game generation, it wasn't difficult for me to operate the automated truck because i like technology. All in all, it took two days to learn how to operate the AutoMine system. Actually, I think it was really fun," he says.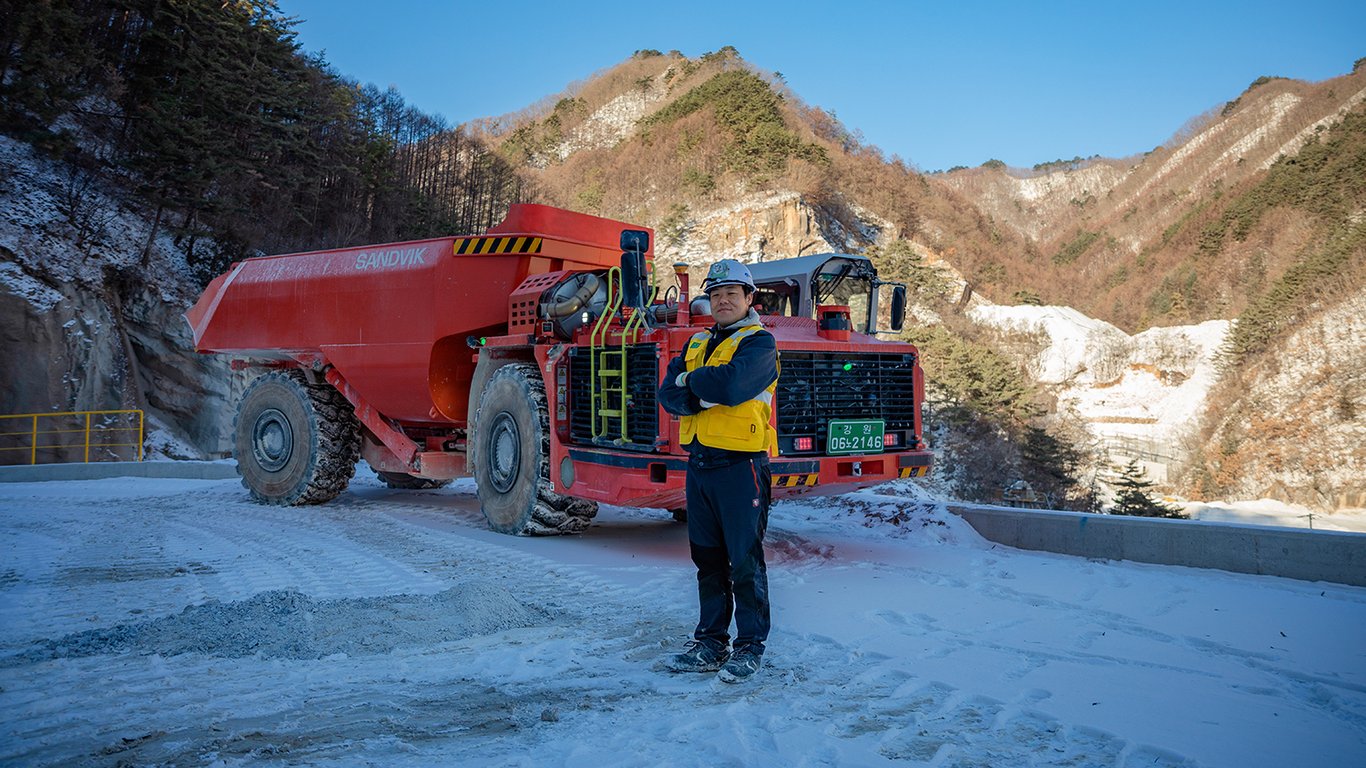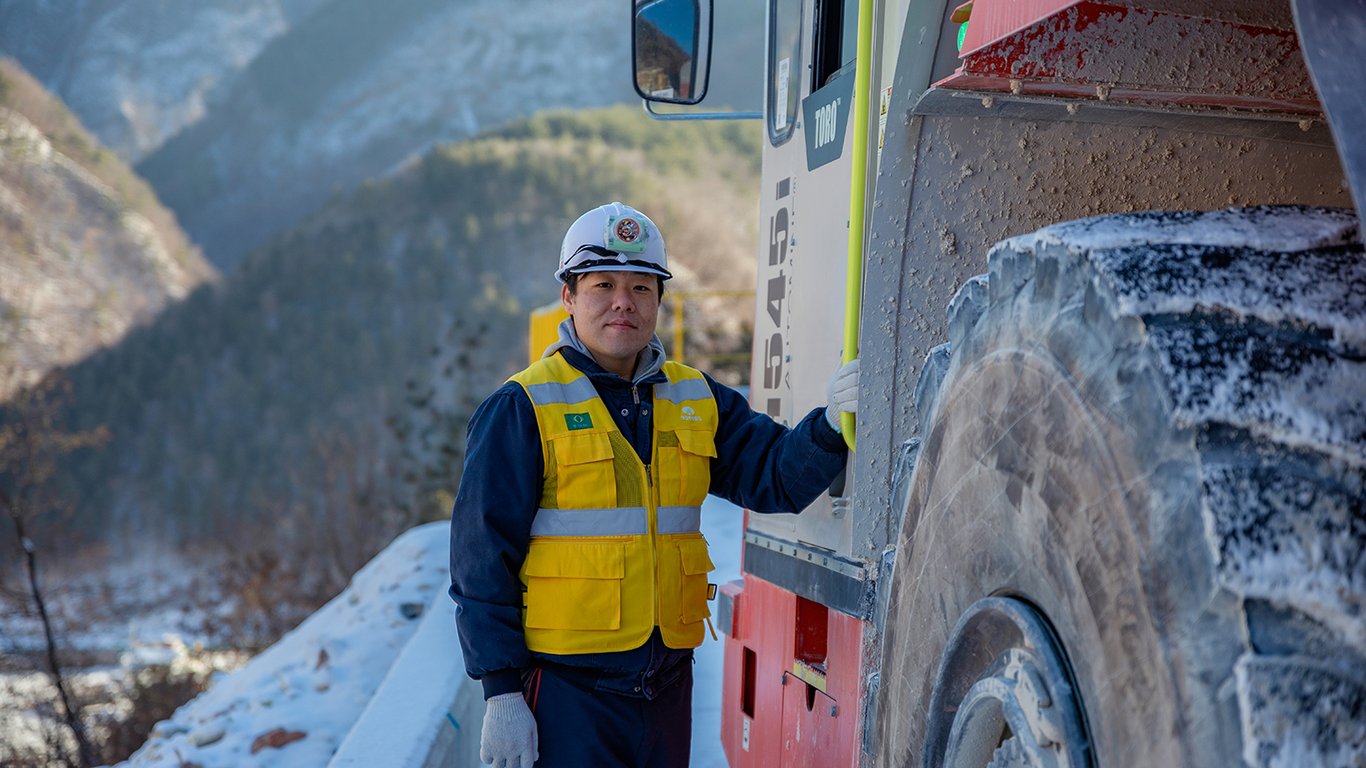 "Korean mines, and our mining company too, eventually need to go towards smart mining and automation. We feel great pride in being pioneers, and we expect to see increased safety and productivity by introducing automated equipment."
The relationship between Sandvik and Seongshin Minefield began when the mining company decided to acquire one DT912D tunneling jumbo, one DD422i development drill rig and two TH545i trucks with AutoMine. After decades of using equipment from other brands, Seongshin Minefield found that Sandvik was the best choice as the company is beginning its automation journey.
Seongshin Minefield
Mining limestone since 1984
Considered as one of the most reliable and trusted names working in manufacturing
Supplying an impressive range of calcium carbonate products used in a variety of different applications and industries. Among others, calcium carbonate is an important additive that provides specific properties for paper, paint, and plastic.
"As time goes by, mining gets more complicated. And the risks also increase. Our short-term goal is to create a foundation of sustainable and safe mining. While carrying out this project, we can confirm that Sandvik is developing equipment with safety as the first priority. Also, we felt that they are putting much effort into considering our situation and in assisting us," Minwoo Hong, CEO of Seongshin Minefield, explains. The mine itself is situated in eastern South Korea, in the Jeongseon area, not far from Pyeongchang, which hosted the 2018 Olympic Winter Games.
The mine's limestone deposits are very rich. Even after 40 years of mining, there are still enough to be mined for another 200 years, according to estimations made by the company. The mining method used is room and pillar, with several blasts performed each day. The company employs around 100 staff and executives, with the head office located in downtown Seoul, South Korea's bustling capital city.
Seongshin Minefield has high ambitions of being a safe and sustainable mining company, which is obvious just by viewing the mine site, even for a non-expert. Both the tunnels and mining areas underground and the operating areas on surface are surprisingly clean and well-maintained. Safety is also highlighted as one of the main reasons when the CEO, Minwoo Hong, explains why the company decided to implement automated equipment.
"First of all, one person can control the majority of the equipment – and it can be done even if there is no one in the mine. Even though it's true for all workplaces, for a mining company, safety is the most important issue. Ensuring safety is considered an essential task for sustainable mining operations," he says.
"
I think it would be great if safety in our domestic mines could be secured by introducing more AutoMine systems
In the control room, Jeon Young Jun watches the truck get closer to the loading bay. About one kilometer from the mine's entrance, the truck stops automatically exactly in the right position, ready to be loaded with limestone. Next to the truck there is an almost two-meter-tall blocking wall. On the other side, a manned loader lifts its bucket above the wall to fill the truck box with newly mined limestone. It takes some ten rounds for the loader to fill the box, and once it's filled Jeon Young Jun prompts the truck to return to surface.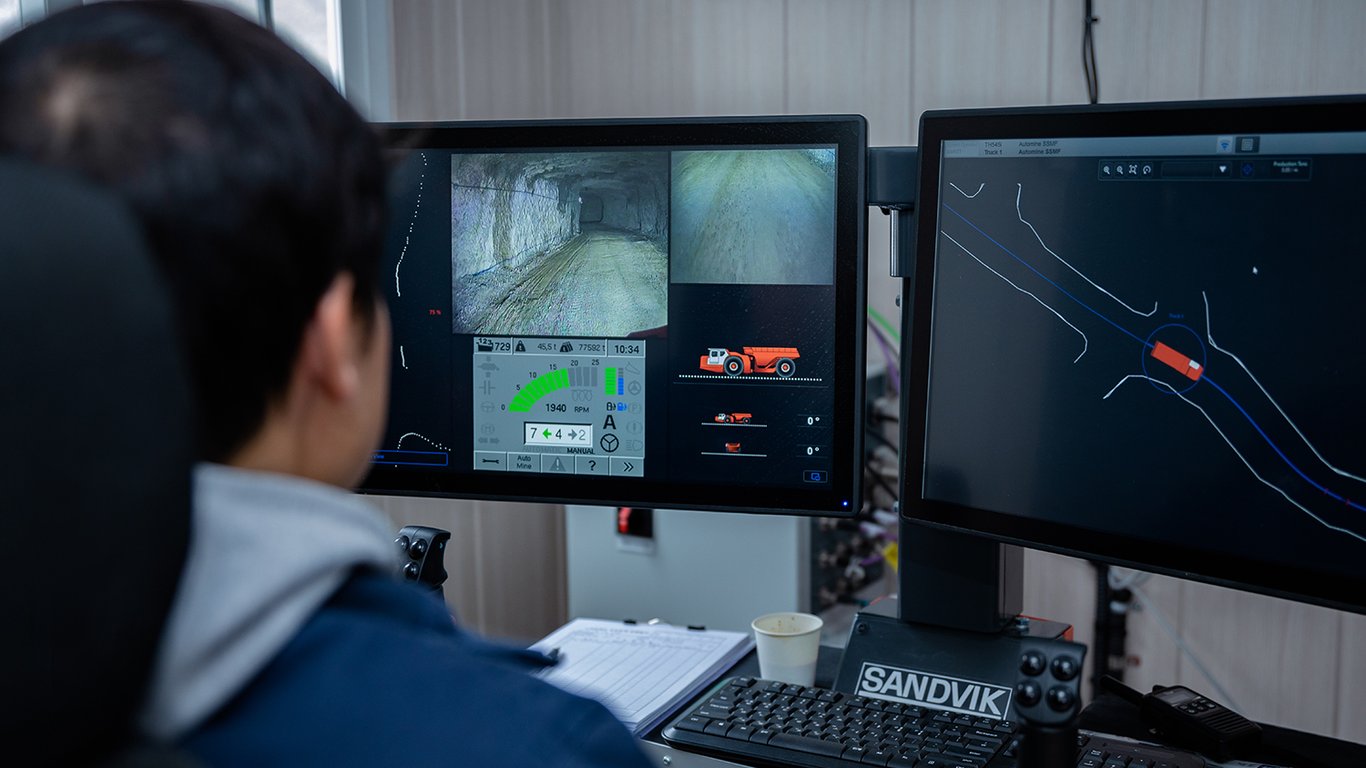 Automation of mining operations is not only of interest to Seongshin Minefield. It is also on the agenda for the Korean government, which aims to make the mining industry a leader in smart mining with a high rate of automation. That is why KOMIR (Korean Mine Rehabilitation and Mineral Resource Corporation) has been involved as a subsidy partner in the procurement of Seongshin Minefield's automated trucks.
Limestone
Limestone (calcium carbonate CaCO3) is a type of carbonate sedimentary rock which is the main source of the material lime. It is composed mostly of the minerals calcite and aragonite, which are different crystal forms of CaCO3. 
SeungWan Shon, Director of the Project Evaluation Team at KOMIR, sees great possibilities for automation and digitalization of the mining industry on a broader scope:
"I think the future image of the mining industry, as of now, is being concentrated on equipment and facilities. But we can also see great potential for downstream and upstream digital solutions. Today we are prioritizing equipment and facility support, but in the mid- and long-term perspective we will also support software development for 3D mining and 3D modeling. I believe we are moving towards a future where software and hardware are being combined. This will help us achieve our goal of authentic smart mining," he says. 
SeungWan Shon is obviously happy to collaborate with Seongshin Minefield. They have a strong will to modernize their operations through new solutions, as he puts it.  
"Together, we are creating a model example, and other mines are now benchmarking Seongshin Minefield."
South Korean mining industry
In 2017, there were 375 active mines in South Korea, owned by private and state-owned companies (349 for industrial materials, 21 for metals, and 5 for anthracite), up from 362 in 2016. The mining industry employed 6,715 people, which was a decrease from the 6,826 people employed by the industry in 2016.
Taekchol Kwon, Site Manager of Seongshin Minefield, looks satisfied as he explains how the route was set up, letting the automated truck circulate in and out of the mine. On surface, quite close to the mine's entrance, the truck stops and reverses to dump the rocks at a designated place next to a crusher plant. Accuracy and reliability are crucial in these operations, and Taekchol Kwon emphasizes the importance of choosing a reliable and knowledgeable partner to supply the automated equipment.
"Sandvik has been operating for a long time in many countries. Based on that experience we believe they can deliver a high-end unmanned system. They have that trust, and due to that trust, we ended up choosing Sandvik," he says. 
Also highlighting safety, he believes automation is important for the future of the South Korean mining industry.
"I think it would be great if safety in our domestic mines could be secured by introducing more AutoMine systems," he says.
Back in the limestone mine, as the sun sets behind the tree covered mountains, the Toro TH545i truck tirelessly continues going down and up the mine. Each time carrying a 45 tonne load of raw limestone to surface, to be processed into valuable products. 
Jeon Young Jun has finished his coffee for today, but he is still keeping an eye on the truck's movements. Being a pioneer of operating automated mining equipment in South Korea, he knows there is a lot of interest in his daily job. 
"Since I'm Korea's first Automine operator there is a bit of a pressure, but I will continue doing my best, safely without any incidents," he concludes.