Productivity leap
Sandvik has significant new rock tool product launches in the pipeline for tunnelling and mine development applications. The new bits, tool systems and carbide grades boost the productivity of drilling operations through higher drill speeds and better hole straightness, offering cost savings through longer tool life and improved safety.
Rock tools and tool materials represent one important ingredient in the performance and productivity of a drill rig, in addition to pneumatics, hydraulics, engine and other main components. Sandvik's in-house production of the cemented carbide bits for rock tools, all the way from carbide powderraw material to finished drill bits, has long been a differentiator. Now the company is introducing new rock tools.
"We wanted to make a real difference in the performance of rock tools in top hammer applications," says Robert Grandin, product manager, top hammer tools – underground applications, with Sandvik Mining and Rock Technology. "Conventionally, there wasn't that much difference between spherical and semi-ballistic buttons in terms of real productivity – no more than 5 percent or so. With our new grades and bits, we can achieve quite a lot more."
The productivity leap described by Grandin consists of three components: two innovative carbide button grades, a new fast bit design and an extension of the successful Alpha thread concept.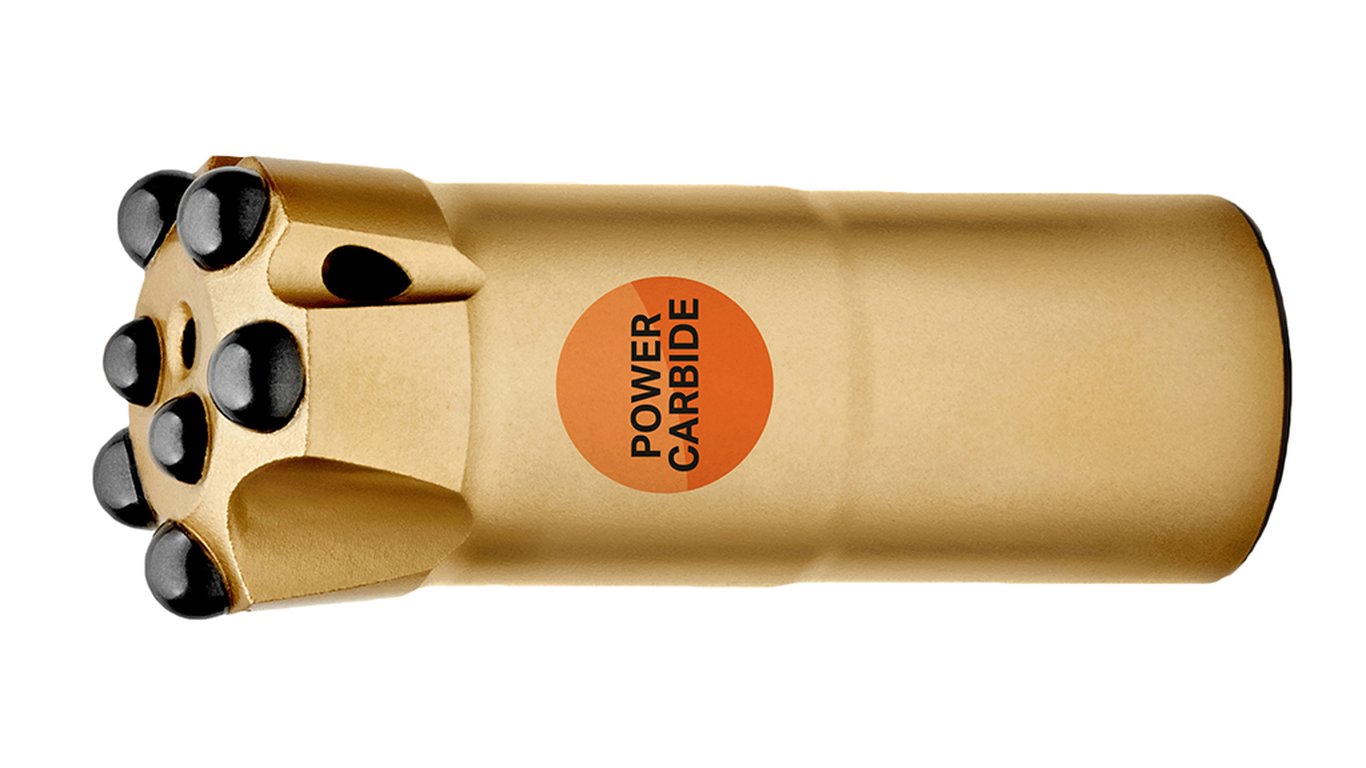 POWER CARBIDE
The new carbide grades, referred to jointly as PowerCarbide – along with Sandvik's other premium and most powerful carbide grades – are the GC80 gradient grade and the self-hardening SH70.
Conventional, so-called straight carbide grades, such as Sandvik XT48, show the same hardness and toughness values throughout the entire bit. This results in linear performance over the entire cross-section of the bit. The new gradient grade GC80 has instead a hard, wear-resistant tip and a tough core, and thanks to this it has exceptional wear resistance in abrasive rock conditions with high silica (SiO2) content. In non-abrasive rock conditions, the improvement is smaller or nonexistent.
The self-hardening SH70 grade is above all highly resistant to button breakages, thanks to a work hardening effect in the surface of the button. This characteristic also maintains the resistance to high wear and breakage even as the button wears down. The hardening effect is greatest in hard and competent ground – in other words, when high MPa values are generated during drilling. There is little or no improvement in soft or fractured rock.
Together, GC80 and SH70 offer mutually complementing solutions for different rockconditions: the gradient grade excels in abrasive rock with high silica content, while the self-hardening SH70 improves performance in hard rock. Field tests indicate that performance, in terms of drilled metres, can be improved by up to 30 percent compared with a conventional straight carbide grade.
A very tangible benefit is the direct reduction in cost per metre, thanks to a longer tool life. This also cuts the time spent changing bits, a major safety benefit. There are also benefits in the tool room, as grinding intervals are 20 to 30 percent longer compared with standard carbides.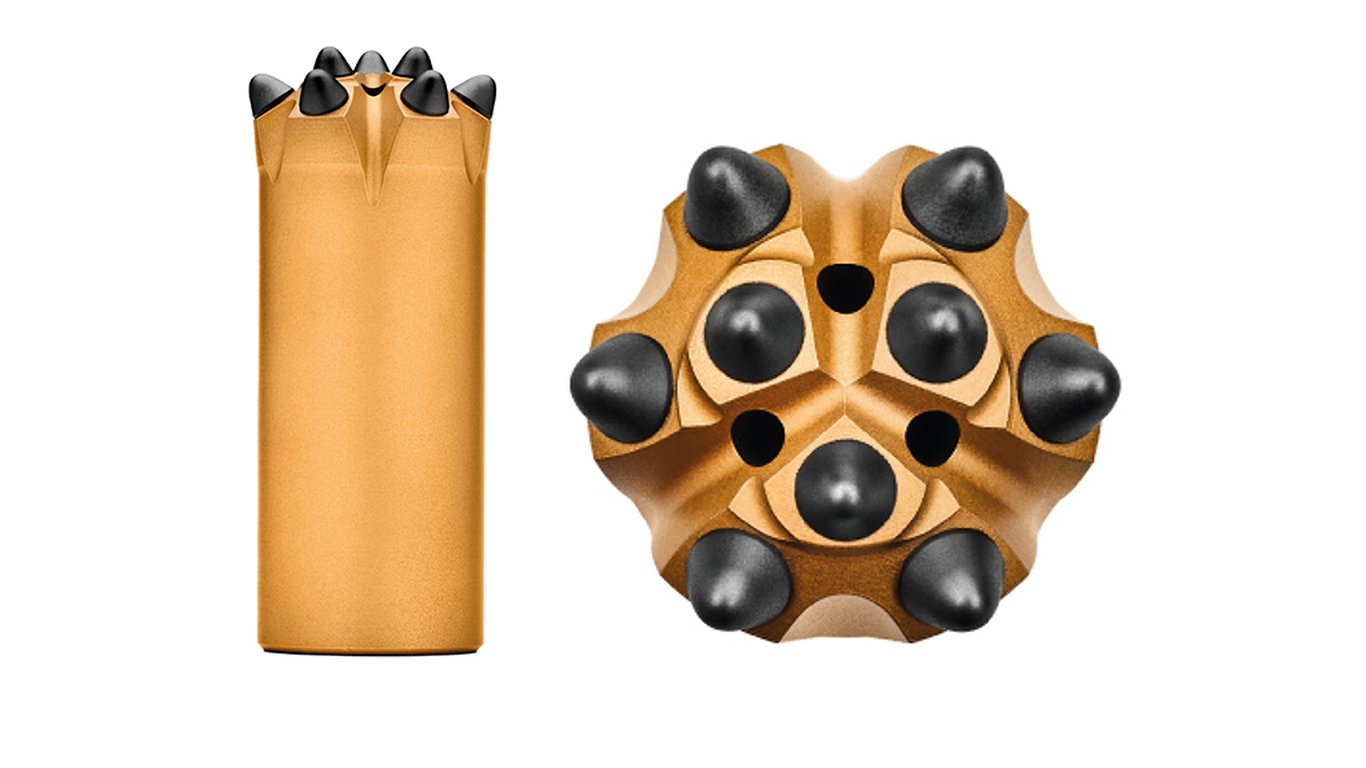 SPEEDY BIT
The second major rock tool launch is the Speedy bit: a new top hammer bit with a patented elevated front geometry and substantially more aggressive, fully ballistic buttons for deeper penetration per blow. "Fully ballistic" means more pointy buttons to cut deeper and to produce bigger cracks and chips. In simplified terms, fully ballistic buttons put more energy into the rock, resulting in more rock crushed per kilowatt of drill output.
To balance out the more aggressive button shape and to enable greater energy expenditure into the rock, the new buttons have an updated carbide grade. The enabling technology here is an improved manufacturing process with a new aftertreatment that makes the buttons more resilient to breakage.
The elevated front of the Speedy bit means that the three centre buttons are raised above the perimeter buttons. Initially, only the elevated centre buttons make contact with the rock face, resulting in action somewhat similar to a pilot drill in metal cutting: the raised bits first produce a smaller pilot hole, which is subsequently enlarged by the perimeter buttons. This results in an extremely fast bit, capable of a 10 percent improvement in performance and longer tool life compared with conventional bits. The penetration rate also remains high even as the bit wears down, which makes the Speedy bit a great option for applications with a specific penetration rate as the discard criterion.
The higher penetration rates of the Speedy bit are also a result of another design feature: more efficient flushing. The patented design includes large sludge grooves to effectively flush even big cuttings and to provide maximum flushing flow at the front of the bit. The large, deep and wide flushing grooves increase the flow and help to carry away the larger volume of cuttings to balance out the more aggressive cutting action and avoid wasting energy in recutting.
"We have seen in trials on mining jumbos that it's possible to save 15 minutes in drilling time for each face with the Speedy bit," Grandin says. "So, if the rig drills four faces per day, which is fairly typical, this can save 60 minutes each day. Taking into account the typical hourly cost for a mining jumbo, this easily amounts to hundreds of dollars per day in savings for each rig. On an annual level, that can mean more than 100,000 dollars per rig."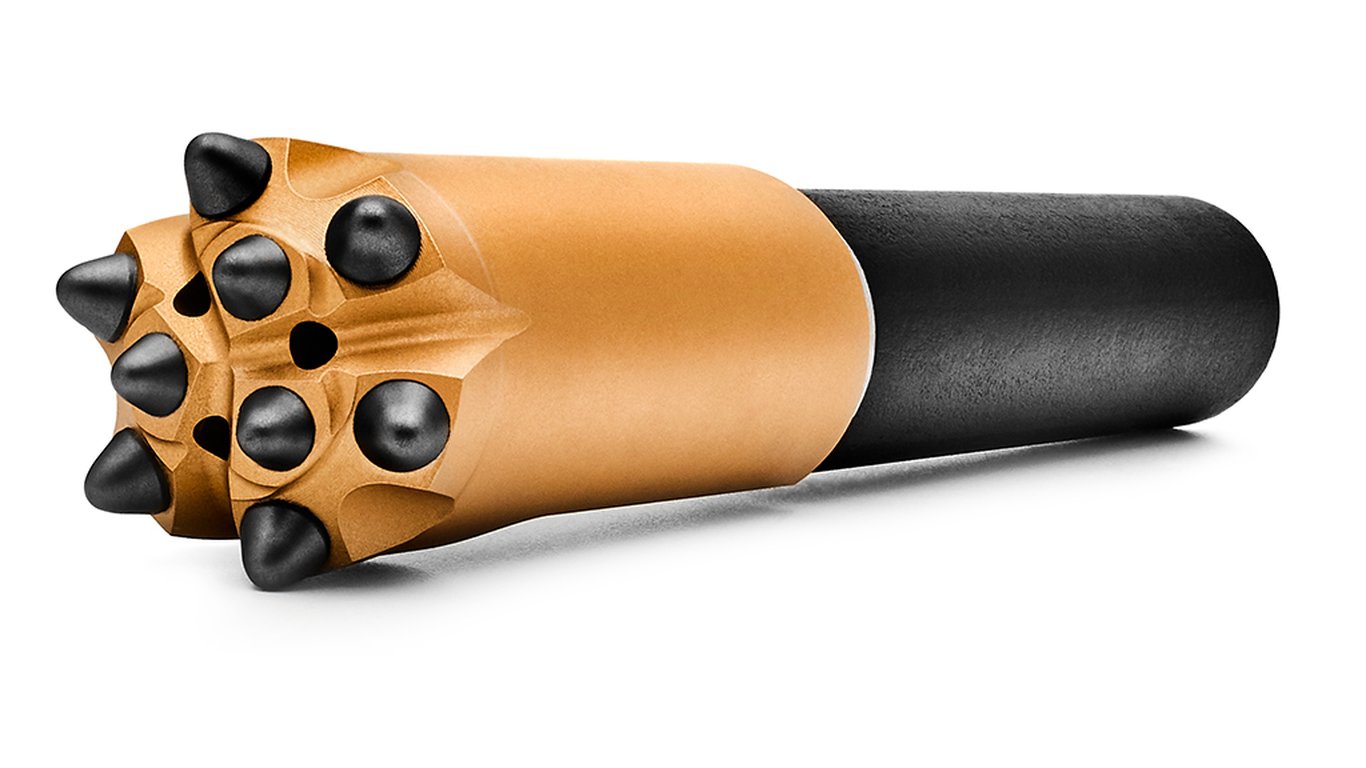 ALPHA 360
Sandvik is also launching a new, larger version of the patented Alpha 330 tool system that since 2004 has dominated 43- and 45-millimetre mining applications with higher penetration rates, more accurate drilling and improved uncoupling of bits. Larger, longer holes are becoming more and more common, and Sandvik responds to this with the new larger Alpha 360 tool system.
The shorter coupling thread in these bits, a key feature of the Alpha system, relocates the sensitive thread section into the bit skirt. Thanks to lower leverage forces, better protection from wear and tear and decreased vulnerability to bending, this substantially decreases the bending stresses exerted on the thread. The shorter thread also makes the bit easier to uncouple.
While the above benefits are the same for Alpha 360, the new "big brother" is optimized for 48- and 51-millimetre hole sizes. This makes it a unique new concept for this hole size range. The new solution offers up to 100 percent longer service life for rods thanks to reduced bending stresses. The exact collaring and better straightness result in better hole quality. Fast and easy uncoupling action is an additional benefit.
"We have some initial experience with Alpha 360 from a major infrastructure project in Scandinavia," Grandin says. "While the average service life of drifter rods was between 2,800 and 3,000 metres with the previous drill tools, we could now achieve even up to 6,000 metres. Perhaps not surprisingly, the rig operators don't want to use anything else anymore."
BENEFITS
PowerCarbide GC80 and SH70: new innovative button grades – part of the bigger PowerCarbide family of Sandvik's most powerful carbide grades – for better wear resistance in abrasive rock conditions and in hard rock
Speedy bit: more aggressive bit design with an elevated front for substantially higher penetration rates
Alpha 360: a stronger new tool system in 48- and 51-millimetre holes for improved service life, higher productivity and better hole quality.