esco extracts the eons
BERNBURG, GERMANY. Salt production here dates back to the Middle Ages, when brine was evaporated from open pans. Today, esco – european salt company, relies on modern mining equipment to extract rock salt from an underground deposit formed 250 million years ago.
Mining is ingrained in the history of Bernburg, a town of 35,000 in eastern Germany that sits along an old medieval trade route. The Bernburg salt plant is a key economic driver in this area surrounded by industrial operations, and thousands of residents and mine workers from across the region filled the streets here wearing traditional dress in 2012 to celebrate the 100th anniversary of an operation that shows no signs of slowing down.
"We are doing exploration drilling every day to get details about the geology to plan production," says Hans-Martin Müller, mine production manager. "We hope that we have 40, 50 years of production here in Bernburg."
esco – european salt company, Bernburg plant
Headquartered in Hanover, esco – european salt company is the biggest European salt producer and part of the global production network of K+S Group's Salt Business Unit, with production sites in Europe and the Americas. With an annual production capacity of approximately 9.7 million tonnes of crystallized salt and salt in brine, esco offers its customers a comprehensive range of high-quality salt products including salt for chemical use, industrial as well as pharma and food-grade salts, and de-icing salt.
With a production capacity of around 2.5 million tonnes of rock and evaporated salt as well as 1.4 million tonnes of brine salt, the Bernburg plant is esco's largest production site in Germany. The plant, which employs around 430 people, has a history of more than 100 years.
Bernburg was integrated into K+S Group subsidiary esco – european salt company in 2002 and is now the largest of esco's three German production sites. The company has invested nearly 170 million euros in modernizing the operation in recent years.
Today, Bernburg's mine fields cover an area of around 40 square kilometres – more than two-thirds the surface area of Manhattan in New York City – and the plant produces two million tonnes of salt annually.
Bernburg's salt deposit was formed more than 250 million years ago. Strong sunlight gradually evaporated the Zechstein Sea, which during the Upper Permian era covered a large part of what is today Central Europe.
When sinking of the first Bernburg shafts began in 1912, the operation was initially intended to extract and process potash. Mining operations for rock salt began in 1921, and potash mining was discontinued for good in 1973 to focus on the abundant rock salt reserves, referred to as "crystal salt" due to the pure white colour and crystalline structure.
The Bernburg salt's average degree of purity is an impressive 99 percent of sodium chloride, while the best storage lots boast 99.8 percent purity – "white gold," as some miners call it.
'A product with a thousand uses'
The irony of packaging quarter-billion-year-old salt into boxes stamped with government-mandated expiration dates of just two or three years gets a good laugh from Müller, who has worked at the Bernburg plant for eight years ensuring that production volumes are achieved and that the extracted salt is of the highest possible quality.
Yet while many people think of salt first and foremost as a food product, only a relative fraction of Bernburg's output ends up in restaurants or on kitchen tables.
Bernburg's salt is shipped worldwide for use in agriculture, pharmaceuticals and as a key element in countless chemical and industrial processes, but its single biggest use is as de-icing salt to improve safety on slippery winter roads in Scandinavia and other European countries.
"Our boss always says it's a product with a thousand uses," Müller says. "We have a quite seasonal production, though, since we extract most of our salt during our high season between October and March."
During the harshest winter weather, the Bernburg operation can fill as many as 400 trucks and 250 railway cars every day. Between its three German plants, esco can supply as many as 25,000 tonnes of de-icing salt daily during winter.
As many as eight different grinding and sieving processes in the surface plant create finished salt grains typically ranging from 0.2 to 5 millimetres in size, depending on customer specifications. But the whole process begins with efficient extraction underground.
Efficient extraction
After taking the cage to its final depth of 500 metres, Müller manoeuvres a Jeep to one of the mine's longest drifts – of which there are a total of 65 kilometres still accessible today. Thanks to smooth roads and high visibility, the speed limit for such light vehicles in most drifts is 50 kilometres per hour.
Müller drives parallel to the primary conveyor, which can transport 1,000 tonnes per hour to the main bunker in front of the shaft that hoists the salt to surface for processing. He soon reaches the production front, where a Sandvik LH621 loader is moving large blocks of just-blasted raw salt from a muck pile to a crusher that initially has to break the material into coarse chunks measuring about 15 centimetres before it can be conveyed to the shaft.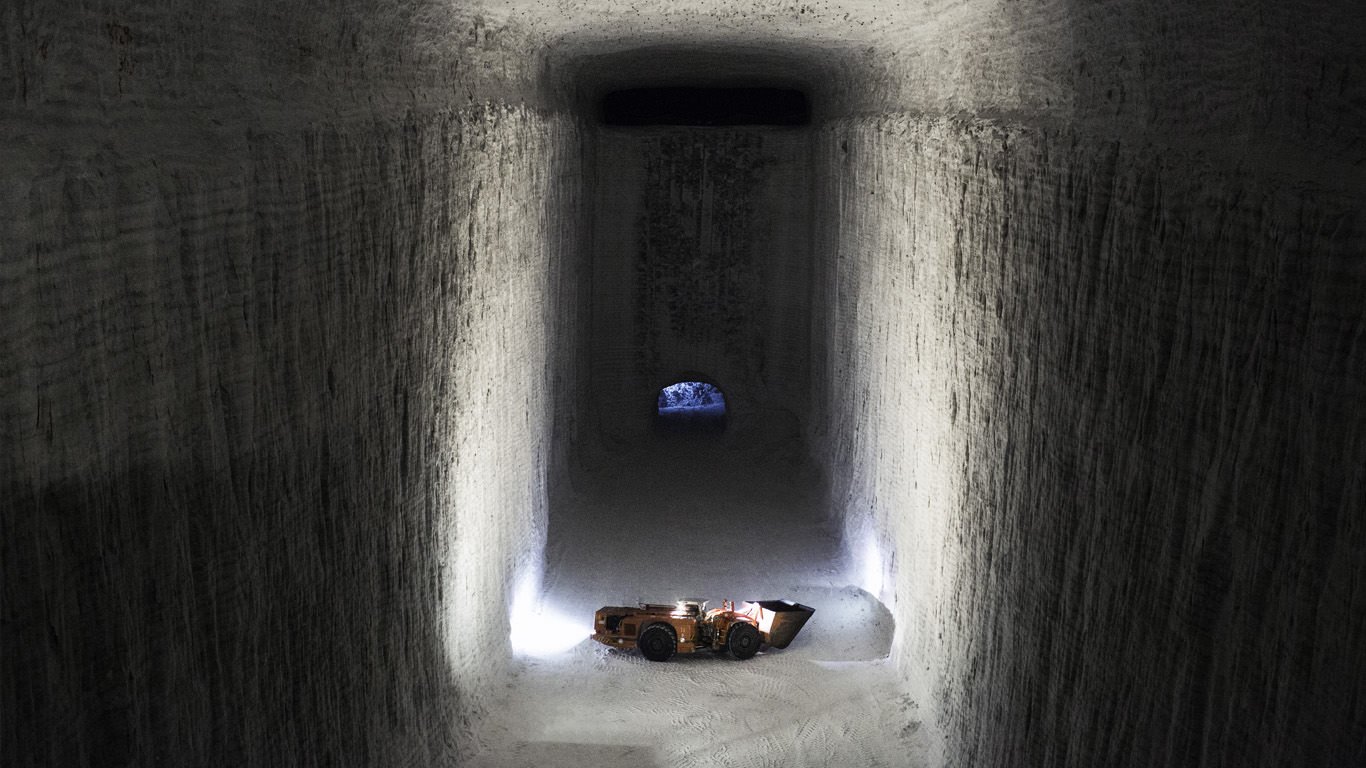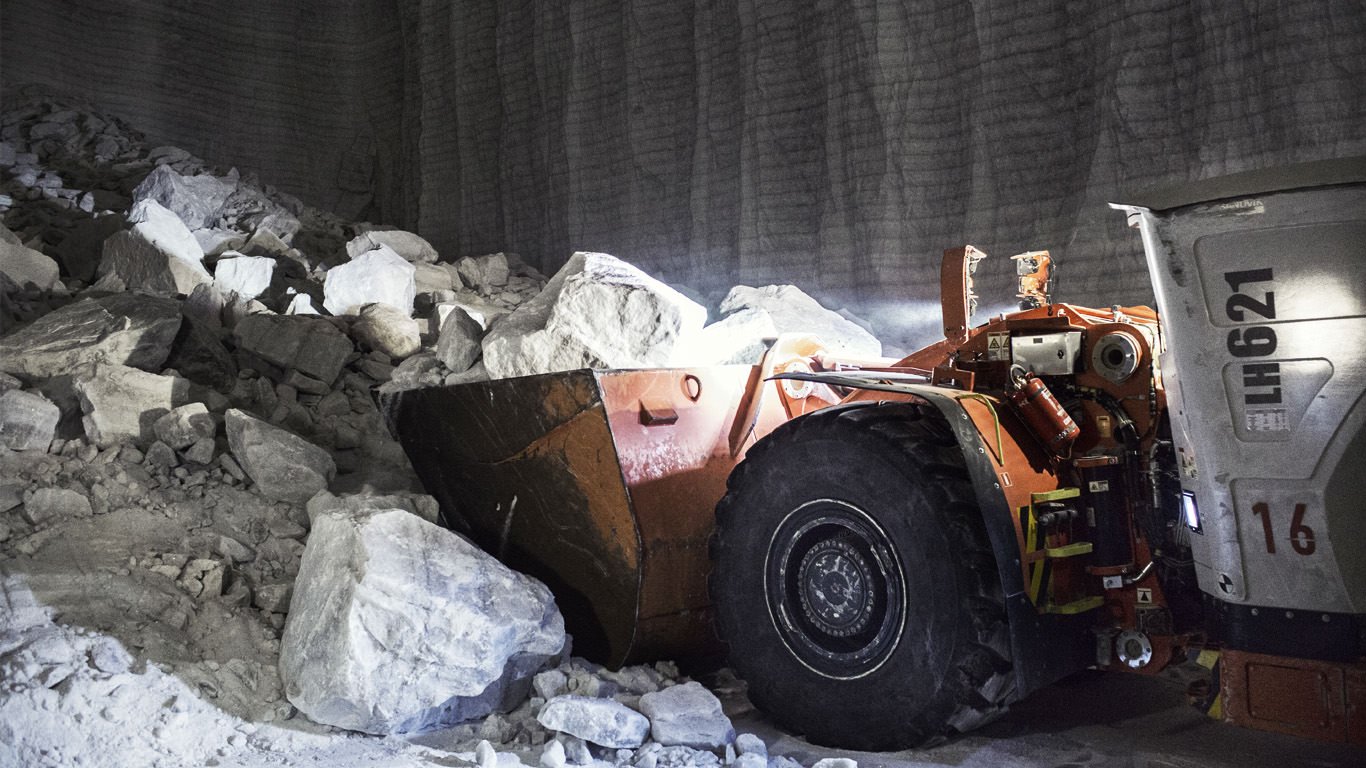 Müller and his team are responsible for the entire production process, which begins with drilling and blasting. Drifting is done in two horizons, lower and upper, and production areas are later connected by stoping. The resulting chambers are vast – 20 metres wide, 35 metres high and 200 metres long.
Extraction processes have come a long way since the very first days of conventional mining at Bernburg, when horses pulled salt-loaded carriages along underground rail. But the mine is constantly looking for ways to improve productivity underground.
Loader lauding
Bernburg recently bought two new Sandvik LH621s, the supplier's largest diesel loader, to replace aging competitor equipment.
"We looked for a supplier who was able to provide a loader that satisfied all our emissions, economic and productivity criteria," Müller says. "Productivity is the main thing we are looking for. That's why we decided to buy the biggest loading machines from Sandvik with a bucket size of 14 cubic metres. That means 21 tonnes in one shovel and that means for us very good productivity."
Sandvik LH621 had previously proven itself in mines in the United States operated by Morton Salt, another K+S group subsidiary. Müller says the mine also took into consideration the model's performance at salt mines in western Germany and a potash mine next to Bernburg.
The cleaner Tier 4 Final engine in Sandvik LH621 was also a key factor in selection.
"Tier 4 Final is a new technology for us but we need to do all we can to keep our employees healthy and comply with EU emissions regulations," Müller says.
Sandvik LH621
The largest Sandvik underground loader, Sandvik LH621 is a 21-tonne loader designed to deliver class-leading safety and productivity. A high power-to-weight ratio ensures faster cycle times while an efficient Tier 4 diesel engine helps minimize emissions underground.
"The drivers like the feeling to drive a clean machine. If you're going out of the cabin after driving in a drift the air is clean, so that's quite new for us and a good feeling for the drivers and also for the air conditions in our mine."
The new loader quickly became an operator favourite. The Sandvik LH621s are the mine's first loaders with a closed cabin, minimizing operators' exposure to noise, heat and dust.
"I am impressed that the loader is quite fast, simply regarding the hydraulics and performance, and the air conditioned cabin, especially in the stopes and drifts, where it is dusty and warm," says operator Davis Protzmann. "There one can operate the loader marvellously. All in all, it is impressive to operate such a huge loader. When I reach the muck pile, the bucket is full immediately."
Bernburg expects to receive its third Sandvik LH621 before the end of 2016.
"The Sandvik LH621s are now the most modern machines in our mine," Mueller says. "We've gotten very good productivity from the new Sandvik loaders and we look forward to a long, productive future with them."
Sandvik solution – Stage IV/Tier 4 technology
Sandvik Mining has worked with Volvo Penta to lead the way in the rapid introduction of the latest ultra-low emissions diesel engine technology, collectively referred to as Stage IV/Tier 4 engines after the relevant European Union Euro IV and United States legislative requirements. The latest Stage IV/Tier 4 engines emit very low levels of harmful nitrogen oxides (NOx) and diesel particulate matter (DPM). The new technology helps mine operators improve the underground atmosphere for employees while reducing maintenance and potentially even ventilation costs.
Read an interview with Hans-Martin Müller here