Pillars of sustainability
Modern society's demand for metals and minerals will continue, as will its insistence that they are sourced sustainably. International mining company Anglo American is ahead of the curve with its approach to sustainable operations. The company shares its method for setting and achieving its far-reaching goals with Solid Ground online.
Can you discuss the "pillars" upon which your sustainability goals are based?
First, it is worth reflecting on our definition of sustainability, and the context for our pillars. A sustainable business is purposeful, competitive, resilient and agile – it's a business that thrives through both economic and social cycles. By understanding the context and listening to stakeholders we stay ahead of evolving trends and provide the solutions to societal expectations. By solving the physical challenges of mining through restless innovation, and by constantly searching for more responsible ways to do business, we are changing the way our employees and stakeholders experience our business – creating enduring value for all stakeholders. Our Sustainable Mining Plan is designed specifically to drive business efficiencies, resilience and agility.
Our far-reaching Sustainable Mining Plan, launched in 2018 as part of FutureSmart Mining™, commits us to a series of ambitious medium- and longer-term goals. These relate to three major areas of sustainability aligned to the UN's Sustainable Development Goals.
At the centre of our Sustainable Mining Plan are our three Global Sustainability Pillars:
Trusted Corporate Leader – Developing trust as a corporate leader, providing ethical value chains and improved accountability to the communities we work with.
Thriving Communities – Building thriving communities with better health, education and levels of employment.
Healthy Environment – Maintaining a healthy environment by creating waterless, carbon-neutral mines and delivering positive biodiversity outcomes.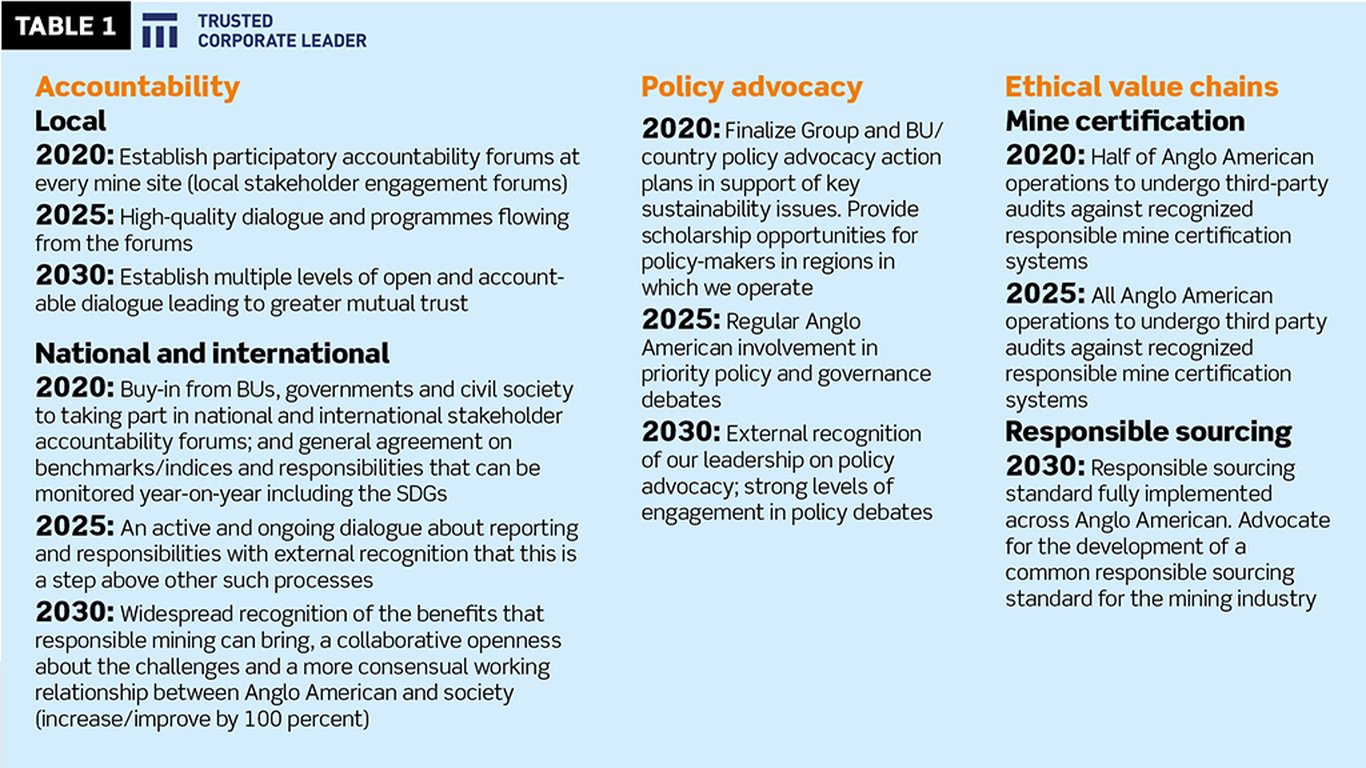 Which key areas of sustainability have you identified for your company and stakeholders to address within those pillars?
Each of the three Global Sustainability Pillars comprises three goals respectively. They are deliberately ambitious and designed to challenge us to lead and innovate, linking into the three elements of our plan.
For us, developing trust as a corporate leader means providing ethical value chains and improved accountability to our stakeholders. (See table 1.)
We want to build thriving communities with better health, education and levels of employment. (See table 2.)
Finally, we want to maintain a healthy environment by creating waterless, carbon- neutral mines and delivering positive biodiversity outcomes. (See table 3.)
What steps can you take today to address climate change by 2030?
There are two principal levers through which we can achieve this ambitious goal: improved energy efficiency and reduced greenhouse gas (GHG) emissions. In terms of our goals, we are committed to reducing our GHG emissions by 22 percent relative to the Business-As-Usual (BAU) projection by 2020; and reducing energy consumption by 8 percent relative to the BAU projection by 2020. We will also reduce net GHG emissions by 30 percent and improve energy efficiency by 30 percent by 2030.
It's important to note that, for each site, we are developing five-year local bespoke plans. We will be targeted and specific in the steps we take, depending on the specific context of the mine itself.
On site and in our business units, a central aspect of our approach to achieve these targets is the energy- and carbon-management (ECO2MAN) programme, which we have been implementing across the Group since 2011. The programme is centred on site-level energy and GHG reduction targets, which constitute a reduction against current business plans.
The targets consider variable operating conditions, such as changes to mine plans, production levels, the depth and grade of orebodies, and haul distances, as well as acquisitions or disposals. In addition to this programme, our sites also have fuel consumption reduction opportunities within operations.
At Group level, we are currently identifying renewable energy opportunities across the Group portfolio, as well as identifying and ranking specific opportunities to meet the 2030 targets. The 2030 targets address a core strategic risk for mining companies to respond to modern society's expectation that we take a leading role on climate change, as well as avoid the costs of climate change by reducing our emissions and improving our energy efficiency.
Anglo American has taken decisive steps for more than a decade to contribute to global efforts to reduce emissions while continuing to provide the materials that modern life requires.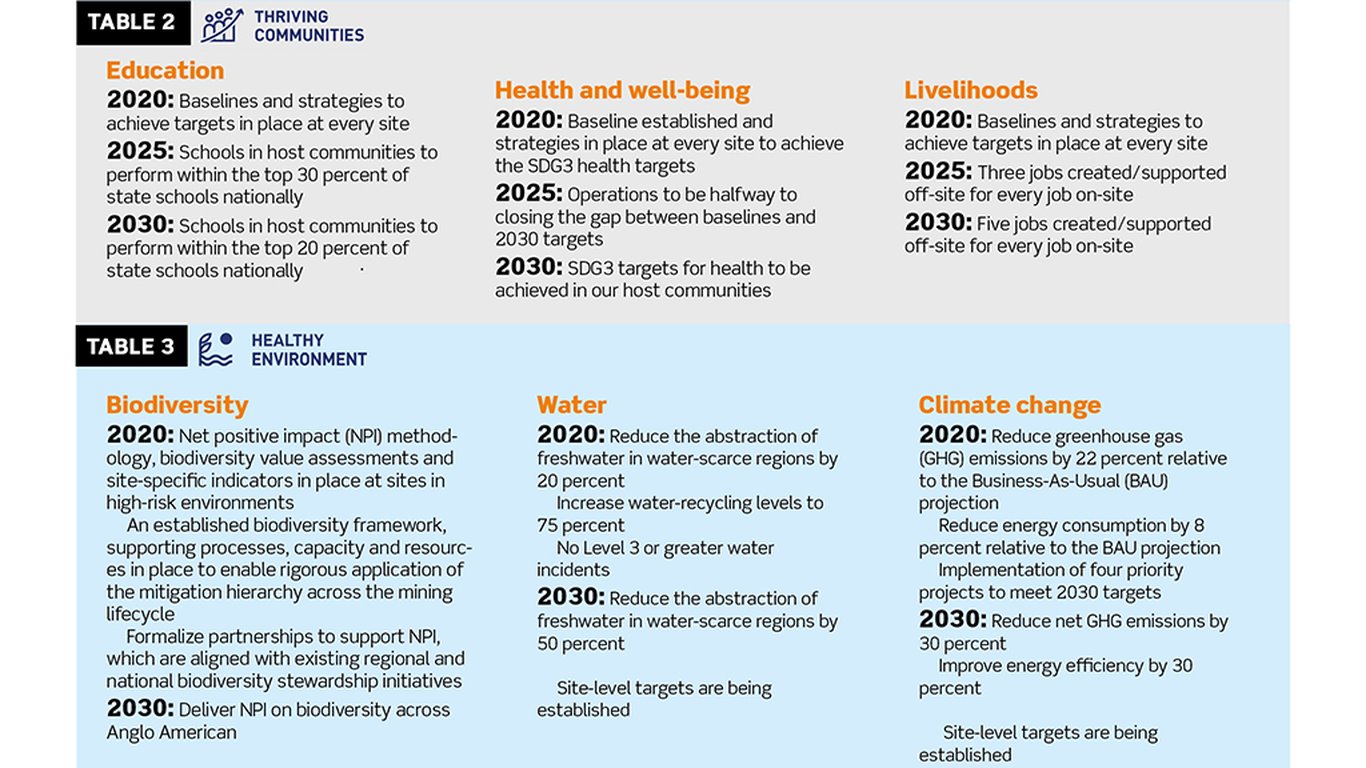 What do you look for in a partner and how do you ensure they are accountable for the promises they make?
Within Anglo American, our supply chain has embarked on a three-year journey to Innovate Supply, Responsibly through breakthrough outcomes in safety, people, sustainability, value delivery and digitization. Underpinning these outcomes are our supplier partnerships.
Our commitment to partnership is not a 'nice to have' or a result of doing business. It is at the core of our values, it is central to how we think and it is at the heart of how we conduct and talk about our business. We look for partners that are aligned to our vision of zero harm, and our expectation of all suppliers is to operate safely, responsibly and sustainably in accordance with the policies, codes and standards of Anglo American.
We acknowledge that our strategic supplier partners typically operate in similar environments to ourselves, engage with a diverse range of suppliers, and share similar commitments to sustainability outcomes. In identifying and working with these partners, we are able to drive more progressive and scalable programmes.
To this end we actively seek out and collaborate with supplier partners in order to support sustainability outcomes. An example of this collaboration includes our Inclusive Procurement approach where we work with key partners to direct both their and Anglo American's procurement spend to benefit businesses located within mining host communities. Linked to this, we encourage key supplier partners to focus efforts towards building supplier capacity, strategic social investment and the creation of subsequent employment opportunities around mining host communities, thus broadening the benefits that mining brings.
Our responsible sourcing approach provides a mechanism to prioritize ethical decision-making when we purchase goods and services. Through this programme, we work in partnership with suppliers to identify and address wider sustainability issues such as safety, human rights, modern slavery and workplace conditions.
We use several mechanisms to enable tracking of commitments including a Global Framework agreement, which supports us to drive commercial value, cover technical initiative road maps, agree relationship governance and facilitate strategic dialogues. We complement this with a supplier performance approach which allows us to measure, monitor and follow up on key issues in a systematic way with strategic suppliers to ensure minimal disruption in the achievement of mutual commitments and sustainability outcomes.
Anglo American PLC
Anglo American plc is a British multinational mining company based in Johannesburg, South Africa and London, United Kingdom. It is the world's largest producer of platinum, with around 40% of world output, as well as being a major producer of diamonds, copper, nickel, iron ore and metallurgical and thermal coal.