Irrigation inspiration
MPUMALANGA PROVINCE, SOUTH AFRICA. A milestone project using mine-impacted water to irrigate crops has revealed potential to increase food production, empower local communities and improve sustainability for the mining and agricultural sectors.
Mining sustainably is personal for Kennedy Botsheleng. Restoring the land to as close to its original state as possible when he's done mining coal is as important to Botsheleng as extracting it.
"My father was a farmer, so as I was growing up I used to go to the farm every weekend," says Botsheleng, the mining manager at Mafube colliery.
He farms in his spare time and plans to farm full-time once he retires from mining. "So I must make sure that where I mine, I leave ground that can be used for farming," Botsheleng says. "And then what about the future generation after me? After we have taken out the coal, they must be able to continue farming. In 2050 there won't be enough food for the whole world so we must make sure now that we leave a proper land in terms of agriculture."
Mafube, a 50-50 joint venture between Anglo American and Exxaro Resources, is one of the only coal mines in South Africa that moves its waste with rollover dozing. Overburden is bulldozed back into the first cut from the next cut, enabling the continuous rehabbing of mined-out areas.
"A major reason we do rollover dozing is that we're able to rehab areas as we mine," Botsheleng says. "We leave plowable ground, land where cattle can eventually graze."
The mine is located about 180 kilometres east of Johannesburg in South Africa's Mpumalanga province, which comprises nearly 6.5 percent of South Africa's total land area and accounts for roughly 80 percent of the country's coal.
The province is also one of South Africa's most productive agricultural areas, and the sector employs more people than any other in the rural province. Around two-thirds of Mpumalanga's land is used for agriculture, including natural grazing land and farming. The drier Highveld region, home to the province's rich coal reserves, also produces more than half of South Africa's soya beans and yields field crops including maize, wheat and other grains. Citrus, fruit, vegetables, nuts and sugarcane abound in the subtropical Lowveld region.
The coexistence of coal mining and farming in South Africa – two water-intensive processes in a water-scarce country – may sound like a paradox, but an ongoing irrigation project prompted by a prolonged drought is revealing widespread benefits for both industries.
Agricultural irrigation with mine-impacted water could help Mafube and other mines address a major challenge: sustainably managing large volumes of water during and after closure. Mine water that can't be treated and discharged has historically posed a headache for mine operators when reserves are depleted.
"
Mines can help protect precious water sources while enabling agricultural producers to achieve food security
The South African government chose Mafube as the first trial site in a public-private initiative to determine the feasibility and sustainability of using mine-impacted water to irrigate crops.
"This is a very important project for the future of both the mining and agricultural industries," Botsheleng says.
South Africa's Department of Water and Sanitation, the Water Research Commission and the country's Mine Water Coordinating Body  – a neutral sustainable mine closure collaborative platform launched in 2018 – partnered with mining companies Anglo American, Exxaro Resources and South32 and a local farmer in the project.
Mafube employees helped establish the infrastructure, including a 30-hectare trial site on virgin soil and another on rehabbed mining land. Salt-tolerant summer and winter crops have been planted rotationally and irrigated with neutral-pH saline water from the pit that doesn't require any treatment. Although mine water can't be released after becoming contaminated through contact with minerals, its use on crops transforms what was once considered an environmental liability into a useful resource that not only helps conserve drinking water but could also reduce reliance on seasonal rain and severely stressed local water catchments, enabling farmers to plant crops all year round. This is essential as the Highveld region only has rainfall during the summer months.
"Mines can help protect precious water sources while enabling agricultural producers to achieve food security," Botsheleng says.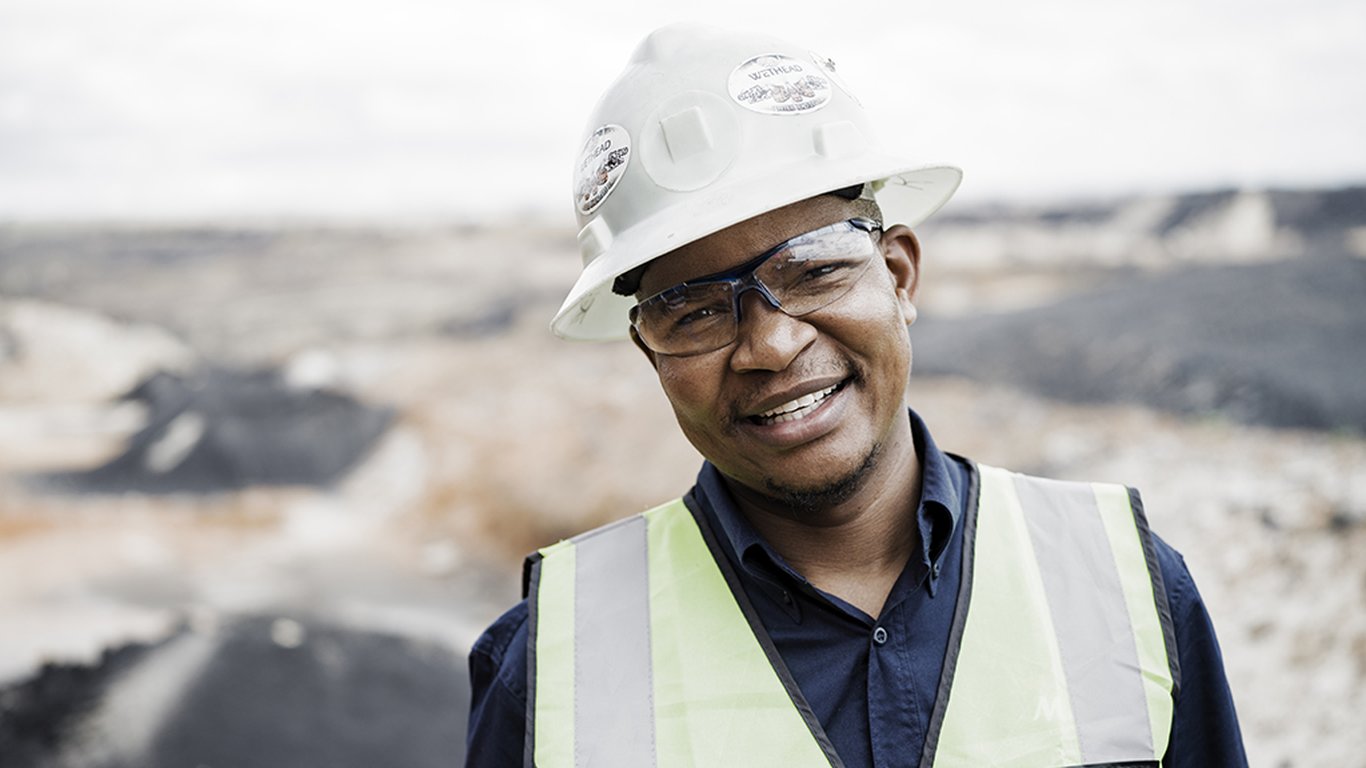 The five-year project is expected to stretch into 2021, but the results so far have more than affirmed earlier research about the suitability of mine water for agricultural use. The initial maize yields irrigated with mine water at Mafube were 80 percent larger than a typical crop.
"Improved crop sizes create more food for communities, employment and increase local farming and profits," Botsheleng says.
The project has revealed potential to utilize rehabbed mining land for commercial farming, addressing both water scarcity and food security.
"This project will help shift a misbelief that mines leave land as it is when they're done and don't offer any long-term benefits," Botsheleng says.
The irrigation initiative forms a building block in Anglo American's Green Engine project, which exam-ines mine closure and how the company can help create sustainable employment opportunities in post-mining communities.
The company also aims to recycle or reuse water to meet 75 percent of its global water requirements under its Sustainable Mining Plan, which is aligned with the UN's 2015 Sustainable Development Goals for improving global sustainability outcomes by 2030.
If irrigation with suitable quality mine water continues to prove sustainable, South Africa plans to ultimately develop national guidelines for potential large-scale adoption.
Botsheleng believes the initiative at Mafube will impact the region long after the mine's coal reserves are estimated to be depleted sometime next decade.
"This project will serve as a breakthrough for the mining industry," Botsheleng says. "When you can reduce your long-term water liability, empower local communities and open doors for more and better farming activity, it's a win-win situation for all stakeholders. People
could benefit from mines long after their closure."