Rocking support drilling
As the company's first battery-powered rock bolter, Sandvik DS412iE extends the zero emissions concept to the underground rock bolter class and opens up a wide range of possibilities for mines driven to boost their productivity and safety with data-based analytics.
In its core mission of delivering productive, secure and versatile rock support solutions, Sandvik Mining and Rock Solutions rock bolters have a clear track record. Still, these tools' automation and data acquisition capabilities have not been as advanced as their production and development drill rig counterparts. Scheduled for launch during 2021, the new Sandvik DS412iE rock bolter will complement the intelligent family of next-generation battery-powered underground drill rigs.
"It is basically an upgrade on our existing, well-liked rock bolter in this size class, Sandvik DS411," says Anssi Kouhia, product manager, rock support drills. "We have received positive feedback about that model. We made an accomplished model even better with more advanced automation capabilities, improved data acquisition and upgraded ergonomics."
Along with its direct predecessor, the new intelligent bolter also has much in common with the larger Sandvik DS512i in the 5 x 5-metre drift size. One example is their similar versatility in terms of bolting systems: Sandvik DS512i and Sandvik DS412iE can handle a wide range of bolt types and lengths, including a combination of automatic cement mixer and automatic resin injection on the same bolter.
The new Sandvik DS412iE will effectively complete Sandvik Mining and Rock Solutions rock support drill range for the  4x 4-metre class, updating its entire product range to the latest i-standard of connectivity and automation capabilities. Additionally, Sandvik DS412iE will be the supplier's first battery-powered rock bolter. In other words, the zero underground emissions approach will now include all stages of the underground mining process: rock support drilling as well as development and production drilling and loading and hauling. The ability to virtually eliminate underground particulate matter, NOx, CO2 and heat emissions, is first and foremost a major health and safety benefit, but also offers cost savings by reducing mine ventilation power requirements.
"
We made an accomplished model even better with more advanced automation capabilities, improved data acquisition and upgraded ergonomics.
The new rig responds to major industry trends that customers have identified in feedback sessions. In addition to reducing underground emissions and improving working conditions, the safety and environmental improvements also make economic sense by reducing time lost to injuries and costs. The advanced automation capabilities will increase the speed and safety of the bolting cycles as well as open up a range of possibilities for process optimization. This will translate into more reliable rock supporting and safer working environments.
Similar to one-hole automation that has been a standard feature in Sandvik mining and tunnelling jumbos, the one-bolt automation feature of Sandvik DS412iE now extends this capability to rock bolters. The rig can carry out a single bolting cycle unassisted, so that in optimal conditions the operator only needs to manually relocate the boom from one bolt location to another.
Sandvik DS412iE will come with two automation levels: the standard Silver package from the outset and in the near future the optional extended Gold level. The main difference between the two packages is in the remote monitoring and operating capabilities, and in the measurement-while-drilling functionality. The automation packages seamlessly mesh with iSure software. Available as a standard tool for designing drift drilling plans and blasting plans, iSure now increasingly extends to bolting operations and comes in three levels: iSure Basic and iSure Plus for the standard Silver automation package, and iSure Premium for the optional Gold level automation. The advanced automation solutions can offer a significant productivity and quality boost.
"With iSure, you can design a bolting pattern in the office, transfer it to the rig over WiFi or on a USB flash drive, carry out the bolting according to the pattern, and on top of that, you can retrieve a report that compares the plan and the realized bolting pattern," Kouhia says.
DS412iE ADVANTAGES
Battery powered: eliminates emissions of particulate matter and reduces heat as well as fuel logistics in underground environments
Silver- and Gold-level automation packages: full compatibility with digital My Sandvik fleet management and OptiMine suite for mine automation and analytics
Intelligent Sandvik Underground Rock Excavation software (iSure): unprecedented capabilities to design, execute and document bolting patterns
Boosted productivity: upgraded drill control and other improvements increase productivity by up to 25 percent
Increased safety: zero engine emissions, significant noise reduction, improved ergonomics and visibility
In particular, iSure compatibility enables more extensive data acquisition and reporting. In addition to the bolting pattern, the retrieved data will also include various parameters that characterize the quality of the bolting process, such as grouting concrete consumption and bolt tightening torques. This can serve to document the bolting process in much greater detail than it did previously, which enables more accurate quality control of the rock supporting measures. The verifiable track record of the rock support measures taken provides systematic safety documentation, and should a failure still occur, the bolting process reports can help to determine the cause of it, down to the level of an individual bolt: when it was installed, how it was installed and whether it complied with set specifications.
Full compatibility with the My Sandvik fleet management portal and the OptiMine suite of digital mine automation and analytics solutions further enhances the connectivity of Sandvik DS412iE, providing all-round data-based control for rock support operations.
While the main areas of focus for Sandvik DS412iE surround automation, connectivity and data acquisition capabilities, productivity has by no means been neglected. The new boom control system, advanced boom manipulator mode and optimized bolting head movements help the operator to achieve a smooth and efficient process by keeping the bolting head automatically aligned with the correct bolt fan positions and angles.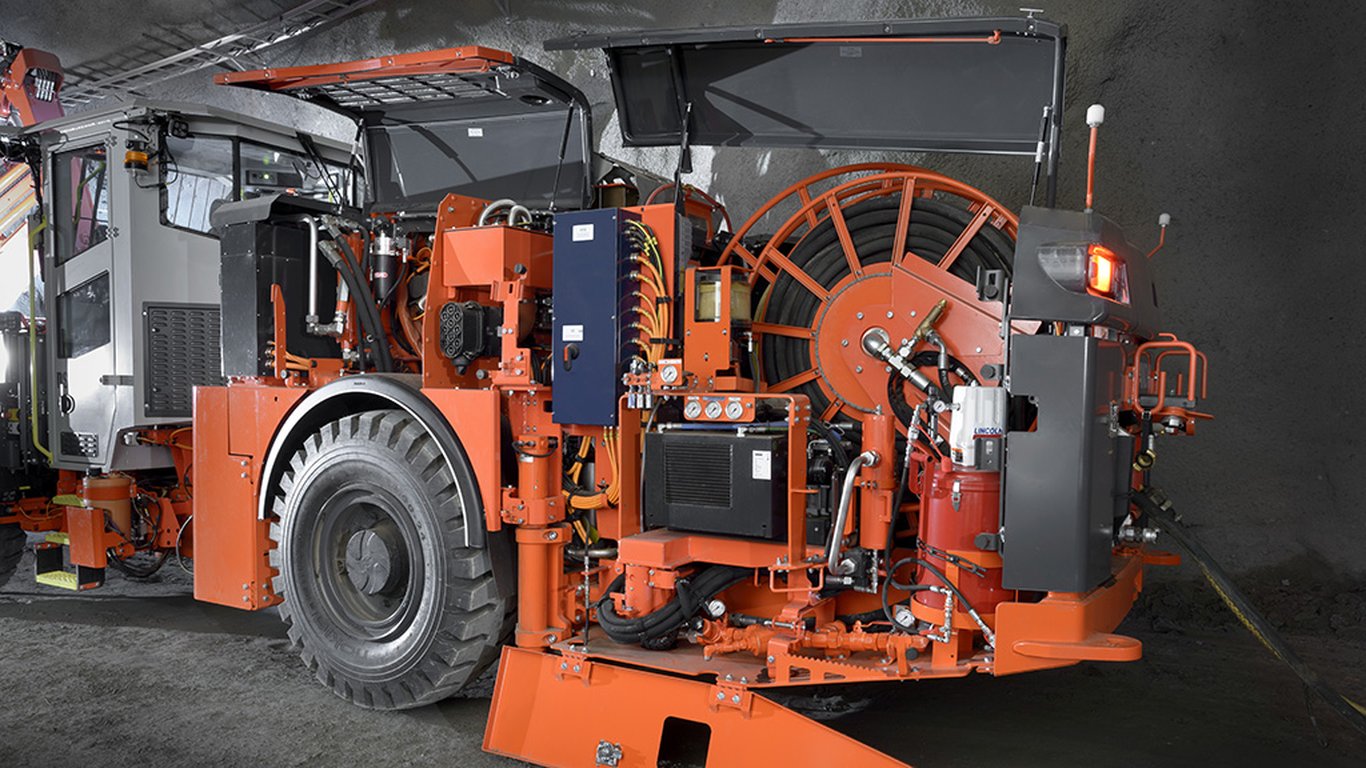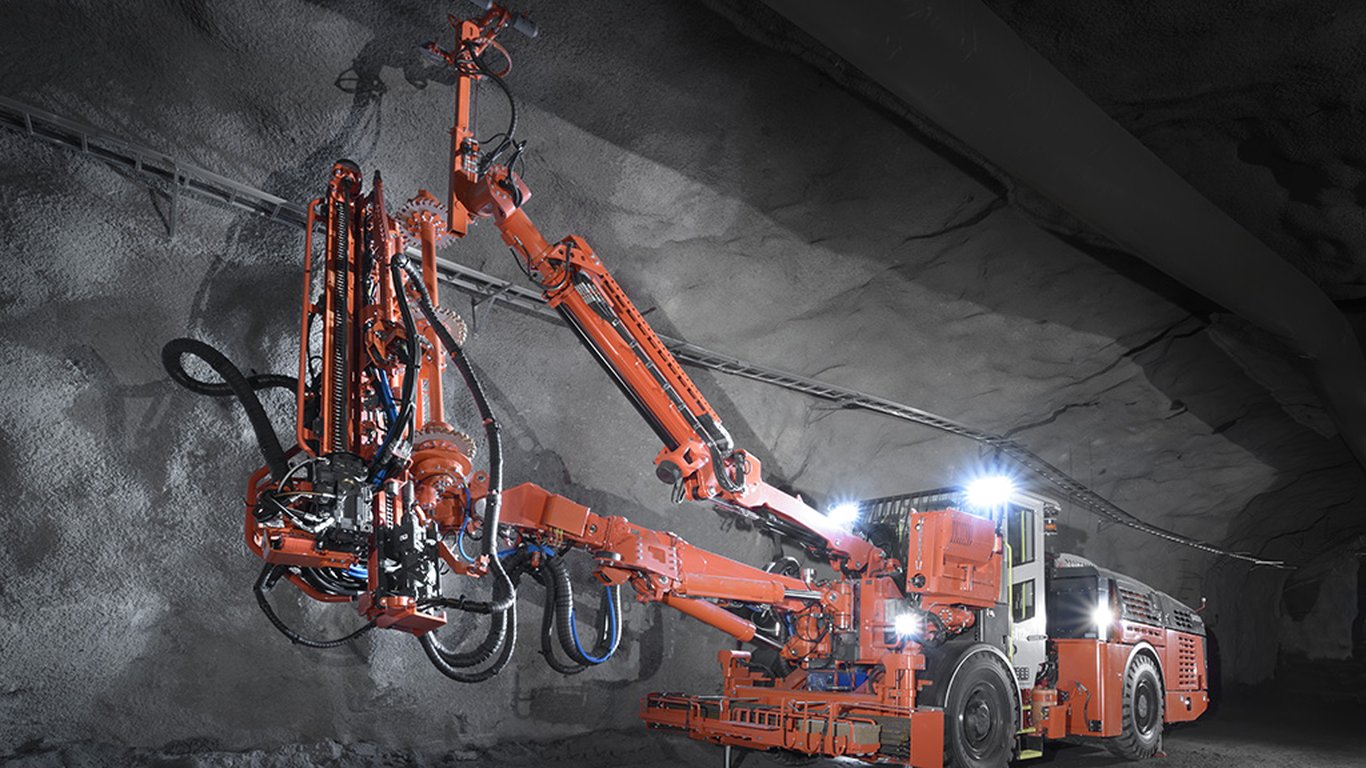 In terms of sheer mechanical power, much of the new bolter's high productivity derives from the new control system of the Sandvik RD314 rock drill, which substantially increases the output and penetration rate. Overall, the productivity upgrade is roughly 25 percent from previous models.
As always with Sandvik equipment, Sandvik DS412iE includes myriad safety and ergonomic features. The bolter is designed to be compliant with the EN16228 standard for drilling and foundation equipment, which is harmonized with the requirements of the European Machinery Directive. One of the EN16228 requirements is an access detection system (ADS).  In Sandvik DS412iE, the ADS automatically scans the surroundings of the bolter and alerts the operator should a person enter the work area, which effectively reduces potential accidents. The safety improvements also include a fully covered steel strand reel.
Sandvik DS412iE continues the class' legacy of secure and effective cabin design: the 55 percent improvement in visibility, better effective vibration control and significant noise reduction add up to a safer and more comfortable workplace for the operator.
Future launches will also include a diesel-powered version, Sandvik DS412i, which will be compliant with the latest engine emission specifications.
Tech Specs: Sandvik DS412iE
Operating dimensions: Length 12.74 m, height 3.05 mm and width 2.975 m
Bolt length: 1.8 –4.0 m
Rock drill: Sandvik RD314, 14 kW
Hole diameter: 33–45 mm
Control system: SICA
Electric engine power: 155 kW
Battery type and capacity: 98.8 kWh, Sodium Nickel Chloride (SoNick) technology
Carrier: Wheel mounted, frame steering