Untethered productivity
The zero emissions concept increasingly attracts mine operators for obvious reasons: reducing underground emission levels and operating costs are attractive rewards. Electrically powered load and haul (eLHD) equipment is a major enabler for this mission.
The key advantage of a cable electric powered loader or haul truck is its ability to operate uninterrupted with zero underground exhaust emissions: the particulate matter, CO2 and NOx emissions from the exhaust gases are completely eliminated, and heat emissions can also be reduced. Thanks to this, eLHD solutions can potentially also help reduce mine ventilation costs.
Since 1981, Sandvik Mining and Rock Technology has offered market-leading electric mining solutions. Sandvik LH514E, a loader for the 4.5 x 4.5-metre (15 x 15-foot) tunnel size with a 14-tonne payload, represents the established tethered electric loader technology and is the market leader of its class.
While proven and praised by operators, tethered-electric loaders come with some practical limitations that are impossible to entirely eliminate. One distinct challenge is during relocation, when the loader must be disconnected from its power box and the power supply cable must be hauled to the next one by using an external power source.
Battery technology helps operators overcome the relocation challenge. Thanks to an on-board tramming battery, the power cable can simply be reeled in and disconnected before relocations and the loader can drive to the next heading under battery power. On ramp operations, the same on-board tramming battery gives the electric loader a power boost enough to raise the tramming speeds to a level comparable to conventional diesel-powered loaders as well as modern battery loaders.
Electrification of loading and hauling equipment enables the elimination of underground exhaust emissions and improves the sustainability of a mining operation while also reducing ventilation and fuel costs. Shortcomings in the operational flexibility, however, have hampered the utilization of these possibilities. Until now.
The new Sandvik LH514BE, soon to enter field testing, will offer groundbreaking technology to bring the benefits of electric loaders to operations where they have not previously been practical.
"We have delivered more than 600 electric loaders to the market, including the first fully automated electric loaders using AutoMine," says Wayne Scrivens, vice president load and haul at Sandvik Mining and Rock Technology.
LH514BE ADVANTAGES
More flexible possibilities for zero emission underground load and haul operations
Increased operational flexibility thanks to on-board tramming battery
More powerful uphill tramming capacity on battery boosted operation
Charging on-board tramming battery while operating and braking enables high availability
Retrofit possible on existing tethered-electric Sandvik LH514E loaders
"Now the electric driveline in Sandvik LH514BE will enable faster acceleration and high speed with improved controllability to reduce cycle times and increase productivity."
The target applications of Sandvik LH514BE typically include mines that need to relocate loaders between several production areas without resorting to extra transportation equipment or personnel required for the operation. With a battery-electric loader, the loading capacity can be independently relocated without restrictions.
The speed difference between conventional electric loaders and the new battery-electric solution is clearly demonstrated in uphill tramming speeds, which can be as modest as 3 kilometres per hour (1.9 miles per hour) on a 17 percent gradient for a conventional electric loader. The addition of the on-board tramming battery boosts Sandvik LH514BE up to 9 kilometres per hour (5.6 miles per hour) on a similar 17 percent gradient. The higher operational speed also makes Sandvik LH514BE a viable option for mine development tasks, where the low ramp speed of conventional electric loaders used to be particularly problematic.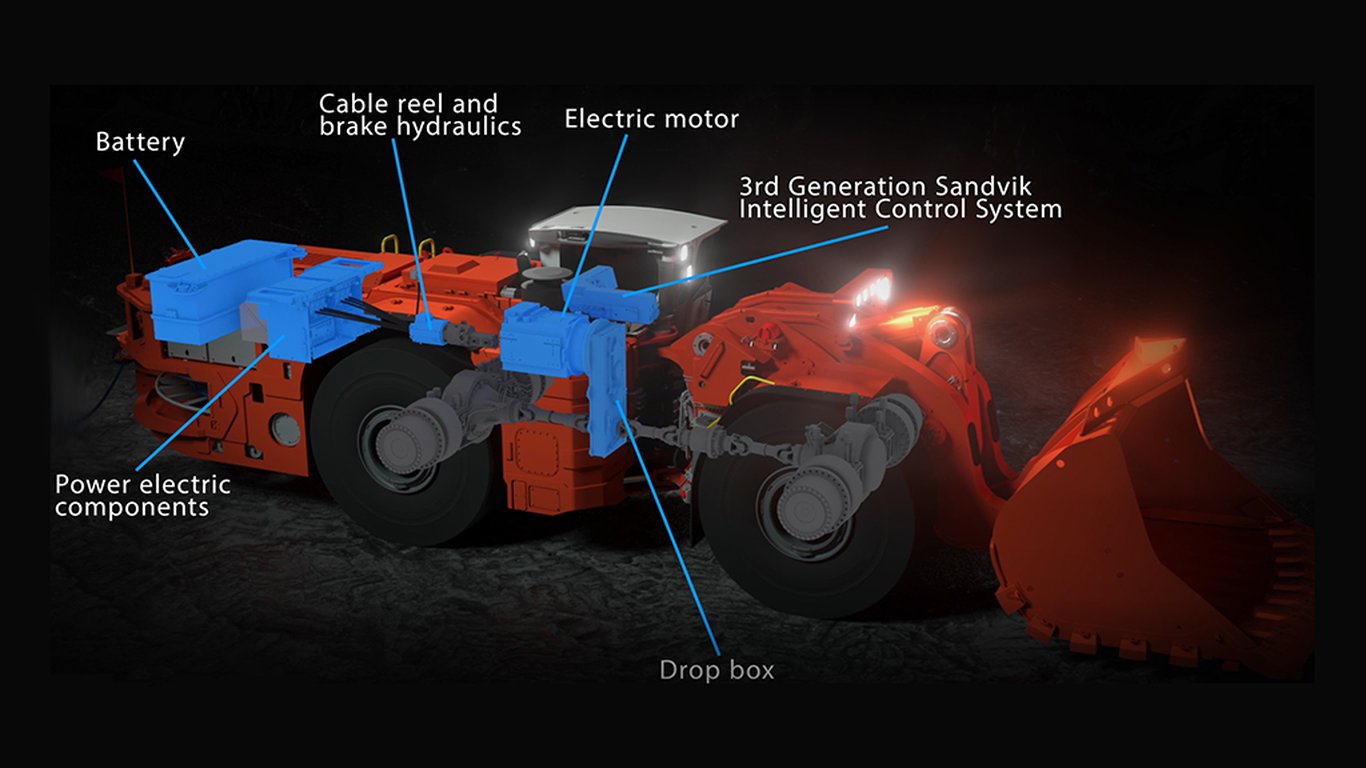 The battery-electric loader also has a regenerating brake system that makes use of the potential energy and tops up the battery when it trams downhill. Overall, charging the on-board tramming battery while operating and braking enables high availability.
The battery-electric Sandvik LH514BE exemplifies how battery technology is expanding the capabilities of eLHD equipment to new territories, to larger vehicles and more demanding applications with higher power requirements. It brings the benefits of electrically powered mining processes to all types of mines.
Sandvik LH514BE is one result of Sandvik's constant efforts to advance battery technology to support the mining industry.
While Sandvik LH514BE will add an entirely new product in the Sandvik portfolio once it has successfully completed trials, it shares extensive commonality with Sandvik LH514E, the company's tethered-electric loader. Based on a compatible frame structure suitable for an on-board tramming battery installation, a retrofit kit will be offered for converting existing Sandvik LH514E loaders into battery-electric units.