Lending a helping hand
PAKYI, GHANA. When a rainstorm devastated a local school in rural Ghana, Sandvik Mining and Rock Technology answered the call for help.
The students at Pakyi School No. 1 dream of becoming doctors, pilots and engineers. Their teachers emphasize how taking their studies seriously can improve their future career prospects.
But conditions haven't been conducive for learning since a rainstorm in December 2014 razed several classroom blocks at the 900-student school in a rural farming community 20 kilometres south of Kumasi, one of Ghana's largest metropolitan areas.
Teacher Hannah Amankwah vividly remembers the Friday downpour.
"We had closed from school, so we were at home," says Amankwah, who has taught English, home economics and information and communication technology (ICT) at the school since 2010. "We woke up the next morning only to come to school to find out that the primary section, some parts of the building, had collapsed. And it was so pathetic that that day, the kids didn't have any place to go. They were down. They were stranded. We were all stranded."
In the weeks that followed, teachers improvised to keep the school open for the displaced students. They converted the school's ICT building into a classroom and demarcated it to hold two classes, 60 students on each side of the 190 square-metre room. Some primary classes were combined into already-overcrowded classrooms that had survived the rainstorm.
"It was stressful for the students and the teachers," says headmaster Jacob Anane. "Children were easily distracted."
To enable younger primary classes to remain indoors, makeshift classrooms were established outside under trees for the older junior high school students. On rainy days, their classes had to be cancelled.
The drastic measures were difficult for students like Janet Appiah.
"It has been very difficult for us to learn sitting under the trees," says Appiah, a third-year junior high school student who hopes to become a nurse.
When repeated attempts by Pakyi community leaders and school authorities to obtain financial assistance from the cash-strapped Ghana Education Service proved unsuccessful, they turned to neighbour Sandvik Mining and Rock Technology for help to rebuild.
The company in 2013 had opened its West Africa service center and warehouse facility just a few minutes' drive from the school on land the company purchased from Pakyi tribal elders. The storm that toppled part of the school also severely damaged the Sandvik facility, shearing off part of the service centre's roof.
As soon as Sandvik restored its facility, Nuhu Salifu, the company's vice president for Sales Area West Africa, visited the school and was moved by the damage.
"Wherever we work in West Africa, we take the view that we are not just here to work," Salifu says. "We actually work to impact the life of the society at large. We have a number of stakeholders that we need to work to satisfy, including our shareholders, our employees, and then also the communities where we work.
"So if we could help the community to bring the school back to life, then we help the whole society, and that is the view that we took."
Local Sandvik leadership obtained top management approval to finance construction of a six-classroom block. Following consultation with local opinion leaders, chiefs and traditional rulers of the community and permitting from local authorities, construction began in 2017.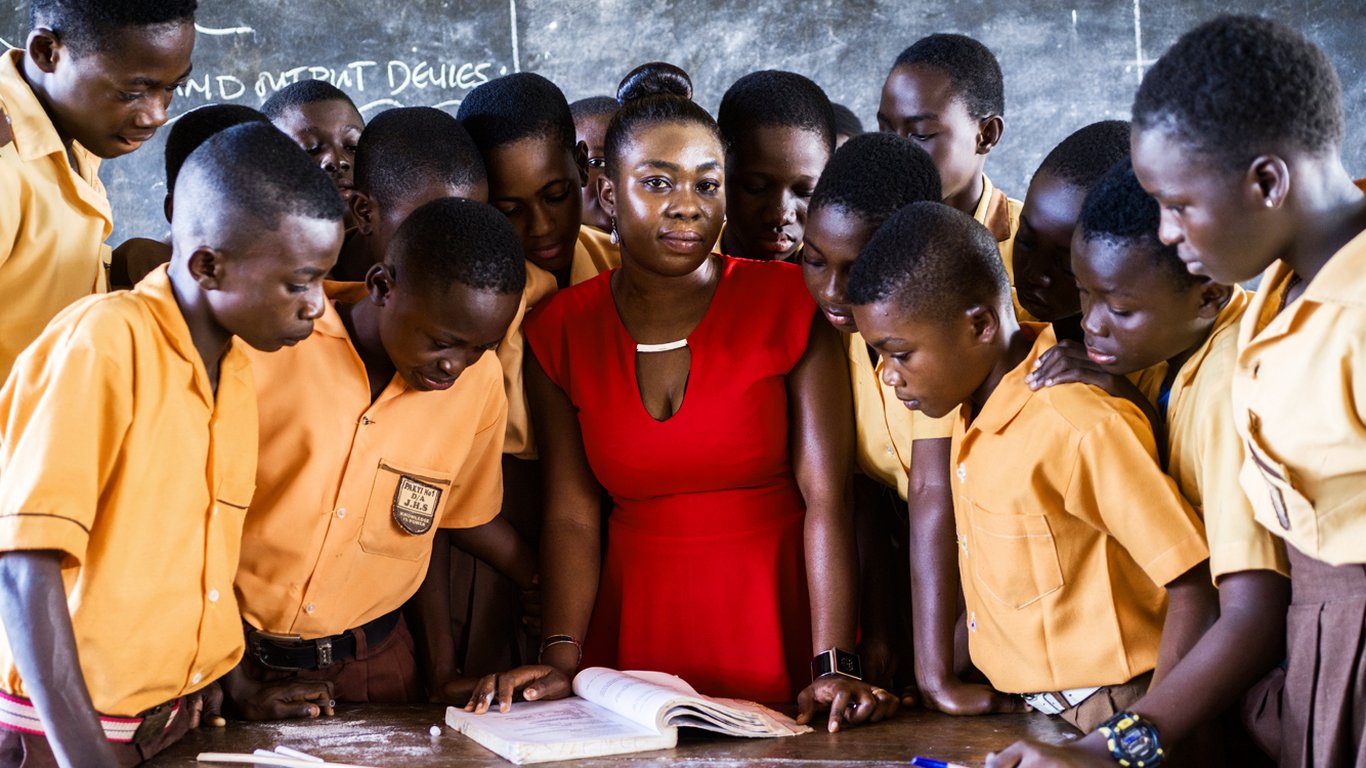 "When they heard that they were going to get a new classroom, they were really happy," Anane says. "We the teachers, the children and the entire community, we were all happy. We are really excited. We are elated."
Sandvik selected a local contractor following a sealed-bid tender process.  HR manager Samuel Brewu says the company was impressed by the contractor's past work in similar community-based activities.
"Part of the proposal was to use local resources as much as possible," Brewu says. "This is an artisanal community and we have many carpenters in the area. Instead of going to a bigger township to find contractors, we wanted to enable the local community to contribute to the rebuilding of the school."
Reflective of the emphasis on using local resources, portions of the new block's roofing integrate wood recycled from pallets and containers used to ship Sandvik spare parts and equipment.
"It's heaven on earth for us because we really do have problems with infrastructure," Amankwah says. "This building is going to give us a comfortable room for them to stay. So we are most grateful and we are really, really happy. The kids are excited and we are also happy that our work here is going to be a little comfortable."
Fifty years after the school was first built, Sandvik inaugurated the new classroom block in early 2018.
"We are appreciative for the new building they have built for us," Appiah says. "It will help us focus on learning again."