System reboot
Even as markets recover, the mining and aggregate industries are hard pressed after several years of sinking and volatile com­modity prices. Innovation and rethinking are needed even in this area. Sandvik offers a new alternative for the conventional crusher overhaul with its Reborn rebuild solution.
Conventional wisdom in crusher maintenance involves two basic approaches: regular replacement investments in new crushers, or overhauls specified for the conditions at hand. It's not unlike buying a new car at regular intervals as opposed to making a continuous effort to keep an old car in a good state of repair. Both approaches, naturally, have their merits and disadvantages. Investing in regular replacements increases capital spending, but helps to minimize maintenance costs. Extended ownership with regular overhauls can be financially more attractive, but the owner may have to accept longer downtimes. Sandvik now offers a third way, called the Reborn rebuild solution, which could be compared with upgrading a used car with a new engine. Reborn combines a 100 percent new, factory-built Sandvik crusher with a systematic service package, where usable auxiliaries and surrounding process infrastructures are reutilized. A part of the Sandvik 365 service concept, the Reborn rebuild solution is combined with a three-year extended warranty that applies to all major components, including on-site service.
Reborn essentially standardizes the rebuild process into a systematic, six-stage service product: pre-feasibility assessment, budgetary quotation, crusher auxiliary audit, new crusher installation under Sandvik supervision, on-site training, and regular condition inspections. The exact scope of each Reborn package is defined during the pre-feasibility study depending on the specific crusher model. The standard scope in all cases includes a replaced crusher and hopper, a bottom shell liner upgrade with a hard, highly wear-resistant steel grade and a new off-line filter. The Hydroset cylinder protection is also included as a default for all models. The most commonly usable auxiliaries and infrastructure surrounding the crusher include the main motor, drive system, lubrication and hydraulic systems, coolers, control, automation and electrical components, foundation, feeders and conveyors. The pre-feasibility assessment reveals whether the auxiliaries can likely be reused with normal spare parts exchange and modifications. If so, this results in a quote at a fixed cost and scope. This can then be followed by a Reborn auxiliary audit, a full inspection of all auxiliaries to list the actions to be taken prior to or in combination with the Reborn installation.
Customer case
Capital Aggregates/ Delta Materials Location: Marble Falls, Texas, USA The US aggregates producer had a Sandvik CS440 cone crusher installed about 15 years ago for secondary crushing of competent sandstone. The feed material is from a primary jaw crusher, while the crusher itself feeds a tertiary crusher further downstream. Maintenance support is provided by the local Sandvik distributor. After 15 years of operation, the Sandvik CS440 had started to suffer from mechanical issues. However, the ASRi 2.0 setting control system was recently updated. As the lubrication system was also in good repair, only the crusher required refurbishment. The Sandvik Reborn solution offered a cost-effective alternative to a complete overhaul by replacing only the worn-out components with minimal downtime. Reliability benefits were additionally achieved by solving the mechanical problems compared with the potential problems after an off-site weld and machining repair.
This can then be followed by a Reborn auxiliary audit, a full inspection of all auxiliaries to list the actions to be taken prior to or in combination with the Reborn installation. The installation under Sandvik supervision is followed by on-site training to lay a solid foundation for effective operations and crew safety. Periodic condition inspections verify that the specifications and targets are met and that the preconditions for continuous improvement exist. Reborn replaces the complete crusher to upgrade its performance and restore availability rates close to those of a new unit at a lower operating cost, yet with significantly lower capital expense compared with purchasing an entirely new crusher system. A key feature of the Reborn solution is a pronounced and integrated lifecycle aspect, leveraging the expertise advantage of the original equipment manufacturer (OEM) compared with third-party overhaul firms. The extended three-year warranty covers 85 percent of the list price of the specified components, typically including top and bottom shell, main shaft and head centre, gear and pinion, Hydroset cylinder and cylinder cover, piston, hub, dust collar and eccentric. On-site training responds to needs arising from things like changes in personnel, which can also create maintenance challenges. A two-and-a-half-day theoretical operation and maintenance training course gives the operators a comprehensive introduction to maintaining and operating the unit properly in its real-life environment, giving them the practical skills to maintain optimal performance.
Tech specs
Compatibility of the Sandvik Reborn rebuild package with the various Sandvik crusher models Sandvik Reborn Package – Compatible crushers CH420:03 – H2000, H2800, CH420 CH430:04 – H3000, H3800, CH430 CH440:03 – H4000, H4800, CH440 CH660:04 – H6000, H6800, CH660 CH870i – H7800, CH870 CH890i* – H8000, H8800, CH880, CH890 CH895i* – H8000, H8800, CH880, CH895 CS420:03 – S2000, S2800, CS420 CS430:05 – S3000, S3800, CS430 CS440:04 – S4000, S4800, CS440 CS660:05 – S6000, S6800, CS660 *Available on demand
Three to four annual condition inspections by certified engineers are planned to coincide with the liner changes to avoid any extra downtime. Measurements are carried out and reported according to a set protocol designed by Sandvik. The one to two days of inspections provide data to diagnose any progressing maintenance issues and to propose corrective actions as required. The aim is a proactive, predictive and preventive maintenance philosophy: the owner can draw from accurate data-based predictions and prevent any issues in a controlled manner before they become acute. For example, the status report can include a quote for an imminent bearing change that should advisably be scheduled for the next maintenance stop. The end users most likely to benefit from the Reborn service are mines and aggregate producers processing hard types of rock and thus experiencing greater than average wear and tear.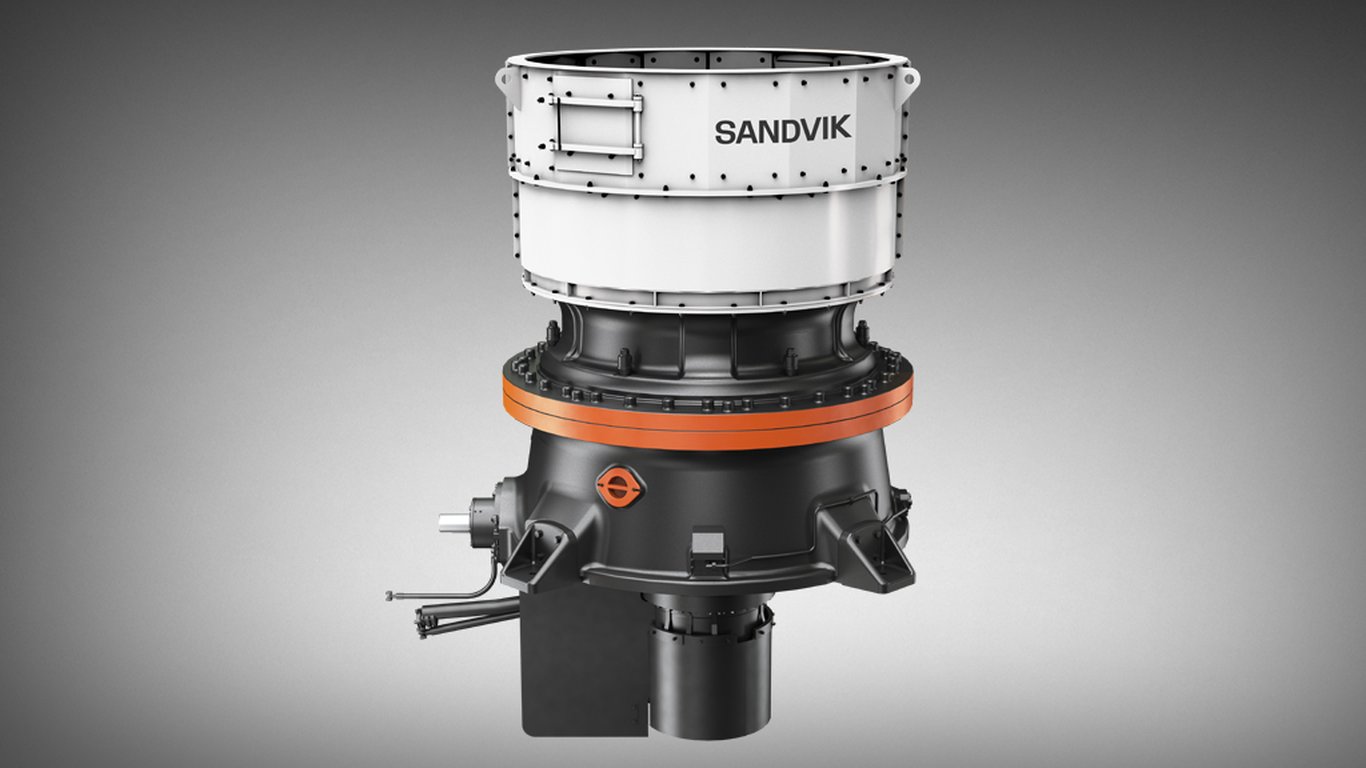 Another area where the solution offers high potential includes any operation with low downtime tolerance. The well-defined service concept with clear component interfaces serves to eliminate uncertainties resulting in downtime. It eliminates the risk of omissions in orders of spare parts typical of regular overhauls. In essence, the Sandvik Reborn solution keeps the crusher continuously updated with the latest design upgrades. It offers full reliability and performance levels comparable with a new crusher, plus additional value – the extended warranty and service offering – at a very competitive cost compared with a complete overhaul.
Inspection
Each year, three to four inspections are planned and carried out by certified engineers. Generally, they coincide with liner changes so as to avoid additional downtime. They take one to two days, and the data gathered helps diagnose maintenance issues. From there, corrective action can be proposed and acted on immediately. This is a proactive, predictive and preventative maintenance philosophy, which should save the customer time and money in the long term. A three-year extended warranty is also included in the offering, which helps maximize the uptime of the equipment and addresses any issues long after installation is complete.
Training
Not only does Sandvik supervise installation, but on-site training is also given to the operators of the equipment. This is a benefit for existing employees, but it also helps new operators get to grips with the machinery quickly, ensuring that they can respond effectively to any maintenance challenges. This training consists of two and a half days of theoretical operations as well as maintenance training, equipping operators with the knowledge needed to keep equipment performing at its peak. This is an ideal way to introduce employees to the tasks they will be facing when operating the unit in its real-life environment.