Crushing connectivity
Rock processors are under pressure to respond to rising challenges such as climate change, energy consumption and safety issues. Sandvik Mining and Rock Technology works hard to support the industry in these issues and help customers maintain their social license to operate. One of the tools to this end is the Sandvik 800i series of cone crushers and the new advanced Automation and Connectivity System.
Growing populations, dwindling resources and escalating ecological problems pose an enormous challenge for humankind: more must be done with less. Necessary materials must be extracted and processed cost-effectively and sustainably, with lower impact and a smaller carbon footprint.
Digitalization creates a new dimension on top of conventional business processes. We can readily connect machinery and collect data on an unprecedented scale. Tools are there, but the question is, who has the smartest solutions to utilize the astounding amount of data that we are now capable of collecting and the knowledge to process it into tangible benefits?
From an equipment supplier's point of view, this creates demand for business models and aftermarket services that truly help operators to overcome the challenges mentioned above. More and more industry professionals think less in terms of what equipment do I need to buy, and more in terms of what capability do I need and how can I get it to meet my operational and business targets, as well as sustainability targets
In terms of crushing processes, the Sandvik 800i series of connected cone crushers is one answer to these challenges. More specifically, the answer is the new solution created jointly by powerful and efficient crushers on one hand and the new Automation and Connectivity System (ACS) and My Sandvik customer portal on the other.
"The Automation and Connectivity System forms the foundation for any data-driven services and actions that our crushing and screening segment will offer customers now and in the future," says Petra Sundström, head of digital business development for Sandvik's Crushing and Screening division.
Since cone crushers are the Crushing and Screening division's biggest product group, it was a natural place to introduce ACS. In practical terms, the mechanical expertise and crushing power already available in advanced cone crushers needed to be streamlined into a unified product line and partnered with a powerful and versatile automation platform to meet present and future industry needs.
Sandvik 800i crusher benefits
Business insight: unlock the power of your Sandvik cone crusher fleet with efficient data collection and actionable reports to optimize and improve your business performance.
Uptime certainty: the new Automation and Connectivity System gives you peace of mind, so you will know how your crushers are performing and you can avoid overloading.
Output certainty: Powerful crushing programmes enable precise fractions and optimal crusher settings for any task.
Power of connectivity: My Sandvik portal offers a single point of entry for all the crucial crusher performance data and fleet management information.
Sustainable crushing: Smart mechanical solutions and superior connectivity enable safe operation and maintenance with minimal environmental impact.
This means the capability to introduce more sensors, measure more and more accurately, creating reports to give a more accurate picture of what is happening inside the crushing process so that it can be improved.
"What we are doing here is that we are actually sending the data that is generated by the cone crushers to a cloud solution, My Sandvik, for our customers to be able to access valuable reports from the data generated by their connected Sandvik crusher fleet," says Martin Johansson, product line manager for compression crushers at Sandvik Mining and Rock Technology.
"We have now launched a platform for the digital solutions of today but also for tomorrow," Johansson says. "Basically, we're taking the first steps for the future to come: more sensors, more cameras and more data. This will enable business decisions based on facts instead of guesswork."
The Sandvik 800i series of cone crushers, which reached its full scope with the latest expansion into eight crushers in September 2019, shares the same design philosophy, with the main focus on excellent productivity and reliability. It collects under one umbrella all of Sandvik Mining and Rock Technology's flagship cone crushers to build a unified mechanical platform for the automation and connectivity solutions, ranging from 61 to 1,837 tonnes (67 to 2,025 short tons) per hour in design capacity and from 211 to 428 millimetres (8.3 to 16.9 inches) in maximum feed size.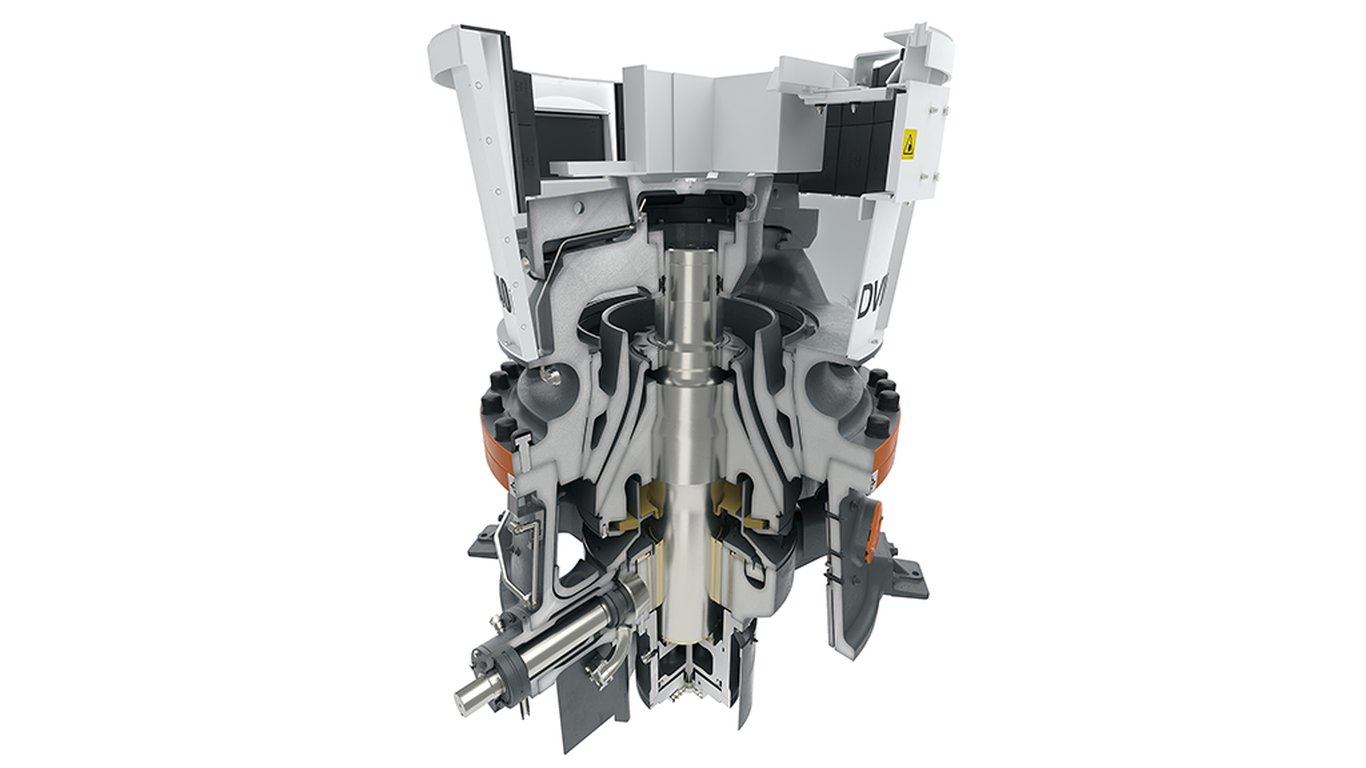 Mechanically, the Sandvik 800i crushers stand out with their toughened-up main shaft and top/bottom shells. The resulting strength increase means improved reliability, better availability and a low risk of critical failure.
Details such as bolted top and bottom shell liners, instead of welded ones, enables up to 90 percent faster liner change. An over-pressure system prevents ingress of dust for increased reliability, and the standard offline filter keeps oil cleaner, extending the oil life by up to five times. Eliminating plastic backing material prevents the exposure of maintenance personnel to harmful substances during liner replacement work.
Tech specs: Sandvik 800i cone crushers
By nominal capacity and motor power
CH830i: 61–283 mtph (67–311 stph), 250 kW (335 hp)
CH840i: 103–427 mtph (113–470 stph), 330 kW (442 hp)
CS840i: 212–659 mtph (233–726 stph), 330 kW (442 hp)
CH860i: 250–910 mtph (275–1,003 stph), 330 kW (442 hp)
CH865i: 155–517 mtph (171–570 stph), 500 kW (670 hp)
CH870i: 208–1,283 mtph (229–1,414 stph), 600 kW (805 hp)
CH890i: 275–1,837 mtph (303–2,025 stph), 750 kW (1,000 hp)
CH895i: 258–1,077 mtph (284–1,187 stph), 750 kW (1,000 hp)
These improvements in the actual hardware are far from insignificant: they mean more output and more uptime, making for safer and more sustainable crushing. Even so, the true focus of the Sandvik 800i series is on the automation and connectivity features. The trusty ASRi platform needed to be replaced with a new, more scalable and expandable automation platform to fully support new digital solutions.
In addition to the standard CSS regulation, the new ACS also fully integrates lubrication monitoring and control, and the option to monitor an off-line filter. Non-critical sensors can be bypassed to continue running the crusher while waiting for replacement parts. ACS also integrates the control of all subsystems to a single, more user-friendly interface. Last but not least, the capability to access the data-generated reports from My Sandvik is significantly improved.
The initial feedback from the field is certainly promising. Representatives from the Mantos Blancos copper mine in Chile say that the new Sandvik CH870i crushers and the reports from My Sandvik jointly brought new life to the mine's sulphide crushing process, helping the operation to develop and implement its digitalization rollout. Improved analytical capabilities support more effective decision making.
Lessons can more easily be learned from fault situations, and problems can even be predicted before they have an impact on the operations.
The Mantos Blancos maintenance crews have significantly improved their predictive maintenance results, and the mine management can make better-informed, fact-based decisions in the sulphide processing circuit.
"We look forward to offering these substantial benefits for all crushing plant operators throughout the world," Johansson says.