At the heart of the process
BÜDINGEN, GERMANY. Basalt production has increased by 20 percent since Vogelsberger Basaltwerk modernized its processing plant by installing a new high-reduction secondary crusher.
Dieter Pracht looks out over the Büdingen-Rinderbügen quarry, watching a shovel fill a haul truck. The operations manager for Vogelsberger Basaltwerk GmbH & Co. KG (VBW) must ensure processes and systems are optimized for the company to meet its target annual basalt production of between 500,000 and 700,000 tonnes.
Sixty kilometres northeast of Frankfurt in south-western Germany, VBW extracts basalt from a 19-million-year-old formation beneath the Vogelsberg mountain range, Central Europe's largest contiguous volcanic region.
VBW produces gravel, stone, sand and other raw materials primarily used as aggregate for asphalt and concrete. As demand for the company's basalt products has increased over the years, so have the strains on its all-important processing plant.
After more than 30 years of secondary stage service, VBW's S1650 cone crusher had reached its capacity limits by 2016. Managing director Bernd Krempel and Pracht researched a replacement with a higher reduction ratio, a crusher that would not only increase capacity but also improve product quality.
VBW initially intended to replace the outdated S1650 with a Sandvik CH-series cone crusher, which would have required a reduction in both feed size and overall throughput.
"Increasing production while maintaining the same target particle size would have been impossible," Krempel says.
Sandvik soon announced the launch of Sandvik CS550, and the new crusher's design immediately impressed Krempel and Pracht.
"It's basically a hybrid of assessed models, a flat cone crusher and gyratory crusher," Krempel says.
Capable of operating at higher pressures than other Sandvik CS-series crushers and featuring proven components from Sandvik CH-series models, Sandvik CS550 seemed to be the ideal solution for VBW.
Sandvik CS550
Sandvik CS550 is a powerful, high capacity secondary cone crusher that delivers precision and quality. Featuring a large intake and a new chamber design, Sandvik CS550 can increase reduction ratio by up to 25 percent and reduce recirculation by up to 50 percent with the same high-value product. A wider CSS range increases flexibility for various applications and the latest automation and connectivity system ensures Sandvik CS550 constantly provides optimal operational and cost performance with minimal operator input.
Sandvik CS550 seemed to be the ideal solution for VBW.
Sandvik ran process simulations in September 2016 with its PlantDesigner software, using VBW's real-life figures for work index, basalt moisture, bulk density and clay percentage.
"That simulation process was very important for us," Krempel says. "The competence of our contacts at the company helped convince us."
Despite having been convinced of the new crusher's suitability for his operation, Krempel admits he still had nerves about being the first Sandvik CS550 user.
"We are talking about the heart of our facility, not to mention the corresponding investment costs," he says. "And because we were guinea pigs, we could only be offered good estimates on what the crusher might do for us. To that extent, I was nervous."
Pracht, on the other hand, was more confident.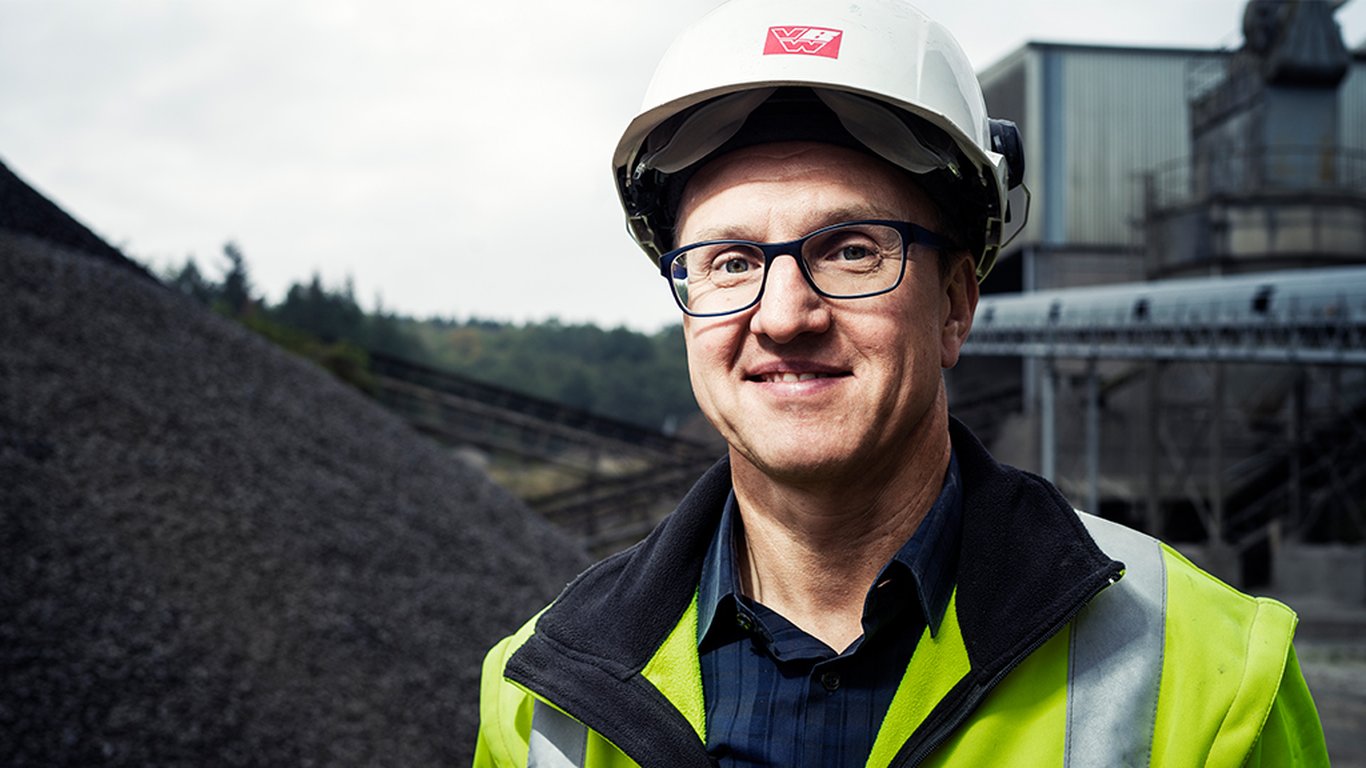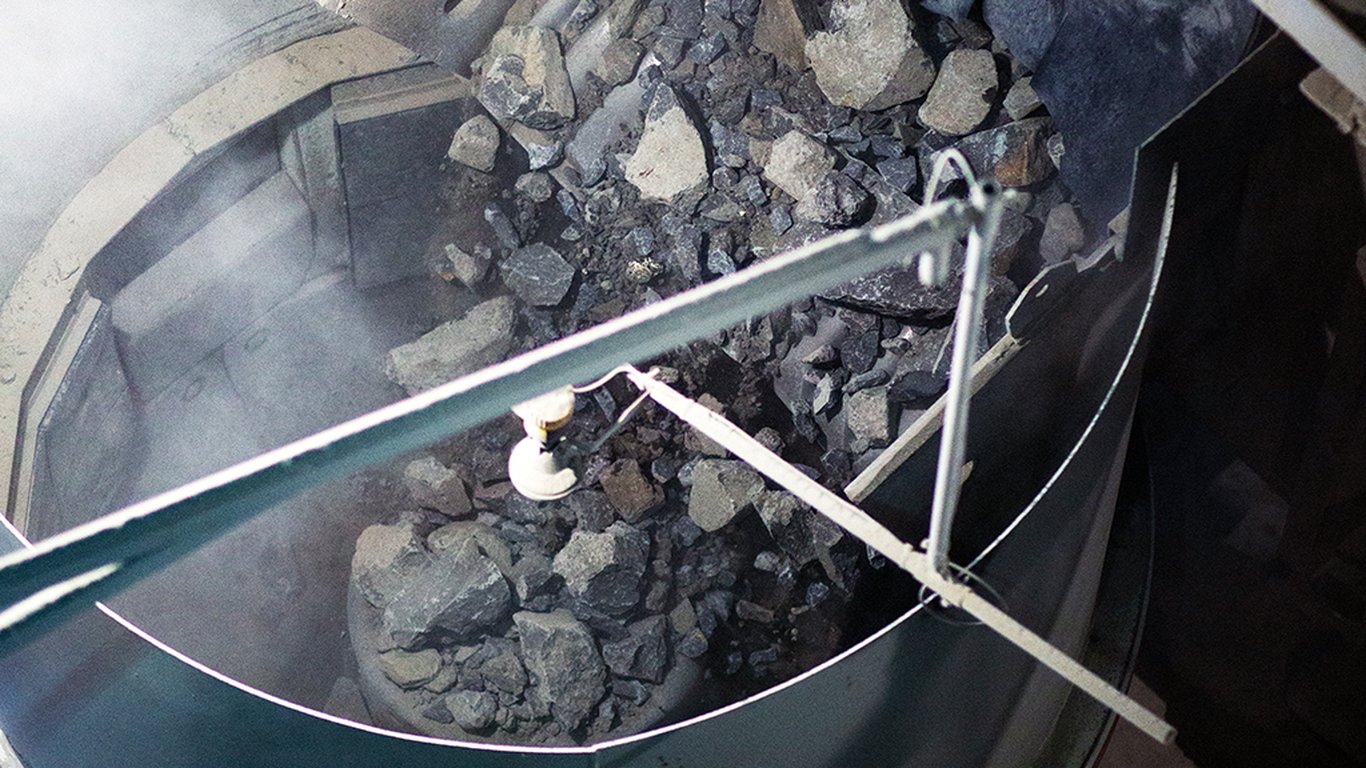 "Personally, I wasn't nervous," he says. "I had a lot of trust. And I said to myself, 'if we're the first ones Sandvik will take very good care of us and make sure it's a success.' And that's what happened."
VBW commissioned its Sandvik CS550 in February 2017 and soon saw a notable increase in the plant's throughput capacity.
"The biggest advantage, and the one we hoped to have, is the high reduction ratio, and the smoother running of the process," Pracht says. "We can now achieve higher performance with the downstream pressure because we have less return flow. And in contrast to competitors' products, it has the largest possible intake."
Less recirculation resulted in reduced wear and less downtime.
"The costs fell, both with the actual crusher and with the downstream components like our gyratory crusher for producing double-broken chippings," Krempel says. "Because we're able to supply it with smaller pieces, the costs in wear and in electricity have significantly decreased," he says.
Sandvik CS550 features a redesigned crushing chamber to ensure improved product quality. VBW feeds 250 to 300 tonnes of 250- to 350-millimetre primary crushed material per hour into the crusher's C-chamber intake. More than 80 percent is processed to VBW's preferred particle size of < 32 millimetres.
Pracht says Sandvik CS550's control system has major advantages over its retired predecessor. It only takes a few simple steps to adjust the crusher to different grain sizes.
"Compared to the old crusher, we now have much more flexibility," he says. "We can adjust our processes more quickly to meet the needs of our clients and to meet demand. We bought the CS550 in order to produce finer aggregates. But at the press of a button, we can adjust the cone, and we have coarser material immediately. There is nothing better on the market right now."
Vogelsberger Basaltwerk
Vogelsberger Basaltwerk GmbH & Co. KG (VBW), part of the Dressler Verwaltungsgesellschaft mbH group of companies, processes basalt into a variety of rock products for civil engineering, road and asphalt construction and gardening and landscaping. VBW also produces natural and recycled blends and backfill material, and its basalt products are available in a wide range of sizes, grading and quantity. The company has 17 employees, 43 hectares of clearing area and 70 hectares of plant area.
After more than two years of operation, the crusher's reliability remains as vital for VBW as its productivity.
"The most important factor was the reliability, which we definitely need," he says. "Then the speed of the response when there are queries, or when there are actually problems, is also key. Sandvik technicians are reliable. They're always willing to listen and they are always available for us. It's been a very pleasant working relationship and partnership."
With its Sandvik CS550 at the center of a more productive processing plant, VBW has shifted its focus to exploring other potential optimization opportunities.
Its primary crusher, for example, can barely keep the new Sandvik crusher 50 percent fed despite operating at its performance limits.
Despite the primary stage bottleneck, VBW has increased basalt production by 20 percent since installing Sandvik CS550, even operating the crusher at the smallest possible throw of 24 millimetres. 
"It helps us produce a high-quality end product with a very consistent shape," Krempel says. "Sandvik CS550 has all the performance we require and then some."