Customer input for better output
Innovation drives economic growth, but what drives innovation? Research and development activities enable companies like Sandvik Mining and Rock Technology to create ever better solutions as we race towards a digital future. But in order to meet shifting customer needs, that R&D process is increasingly placing customers at its heart.
At leading innovative companies, R&D and product development have become digital endeavours. That's the finding of the Boston Consulting Group (BCG) 2018 ranking of the most innovative companies, in which seven of the top 10 are digital natives. The vast majority of the others on the list have put digital at the core of their innovation programmes, and this extends even to the most traditional of industries. The report says that a digital divide in terms of innovation has opened up, and threatens to widen, between leaders and the rest. Virtually all companies claim that their strategies are customer-driven, but few have truly embraced the concept. In the retail sector, Amazon devotes significant resources to pleasing consumers, over and above anything else. It constantly tests and iterates its product recommendation algorithm in real time to see what customers respond to best. Innovations such as the "Prime" free shipping programme have been criticized by many as unprofitable, but placing customers at the centre of their R&D process has created brand recognition and customer loyalty that are the envy of virtually every other company in the world.
Of course, manufacturing and selling mining equipment and rock tools is not the same thing as running a worldwide retail business, yet lessons can be learned from the Amazon customer-centric approach. Smart companies in a variety of traditional industries are setting up systematic dialogues with their primary customers to dig into details when it comes to needs and wants. Managers at FedEx hold twice-yearly summits with a sampling of business customers not to talk about their own service, but to understand in what areas their competitors are doing a better job. At the German adhesive giant Henkel, the "tops to tops" programme has all executives meet regularly with their counterparts at major customers, allowing them to ensure that the company maintains a current dialogue
Auto Pipe Handling – Automating complex manual operations
Auto Pipe Handling is a software feature designed to automate the complex, manually intensive task of connecting drilling pipes together. It was developed as a direct result of customers wanting a more efficient way to deal with this previously error-prone process. The team takes into account customer feedback at both the concept generation and the design review stage. They also consider whether such functionality can be added to other in-the-hole solutions.
and can respond appropriately to even the subtlest shifts in the market, which would be otherwise invisible. Customers of Sandvik Mining and Rock Technology are already enjoying the benefits of being more involved in the product development process. Sandvik has held workshops to gather future customer needs, and at one recent event more than 200 customer ideas for the new Sandvik LH517i loader were generated. "The overriding feedback was that we have a great machine," says workshop leader Minna Pirkkanen. "Customers provided insight on how it can be further developed to make their work easier. That is truly valuable feedback, and it's really only possible at an event like this when everyone feels able to speak freely, ask questions and really drill into the detail beyond high-level comments." Pirkkanen says that as a direct result of the customer forum, Sandvik has enhanced the "intelligent" aspects of the loader, improved ergonomics and serviceability, reduced maintenance time and reduced operating costs, with safety always at the forefront of the design.
My Sandvik – Turning equipment data into easy-to-use knowledge
The My Sandvik portal provides users with access to information on their fleet, and the ability to request quotations and place orders. Customers can use it to keep track of their fleet's performance, plan for better maintenance and base decisions on accurate data. The suite of reports available is under constant development based on customer input.
According to the BCG survey, four types of innovation – all related to digital – have grown in importance and are being pursued by more companies: big data analytics, the fast adoption of new technologies, mobile products and capabilities, and digital design. Adding intelligence to mining equipment and rock tools is something Sandvik is already doing, but it has become clear that customers also want help with making sense of big data. That's the idea behind the My Sandvik digital service solution, which gives customers access to much of the data produced by their mobile equipment.
"With My Sandvik, we have taken customer needs into account from the very beginning," says Thomas Hecke, digital services manager at Sandvik. The My Sandvik digital services team has found through extensive dialogue with customers that not everyone is ready to take advantage of the more advanced reporting capabilities, so more intuitive dashboards are being designed and added to the toolkit. "Not every customer has the resources to analyze this onslaught of big data," Hecke says. "While we offer advanced reporting for those that do, our product can be tailored to customers who are taking the first steps in moving away from a paper-based system." Hecke and his team, together with other digital stakeholders, hold regular meetings where product engineers listen to customer feedback gathered by the sales teams to keep solutions relevant. At the same time, the digital services team works on improving the front end. A perfect example of this was the internal workshop organized in Tampere at the beginning of June 2018, Hecke says. "This workshop helped us to assess what level of detail our customers and internal stakeholders require from the reporting dashboards," he says. "It's a continuous process, and as our customers' ways of working change, our tools must be improved to support them through that change." While digital tools have the power to join up the fragmented manufacturing processes of design and planning, preparation, machining and evaluation, this is not something that Sandvik can achieve on its own. Product development is no longer restricted to the core tasks of a loader or drilling equipment. Adding intelligence into the equation creates all sorts of questions for the product engineers. When will customers want this data, and what will they do with it? What third-party products or services do we need to interface with? Are these reports being used, by whom, and how? With questions like this needing answers, placing customers at the heart of future product development isn't just an option for Sandvik to remain an industry leader. It's essential.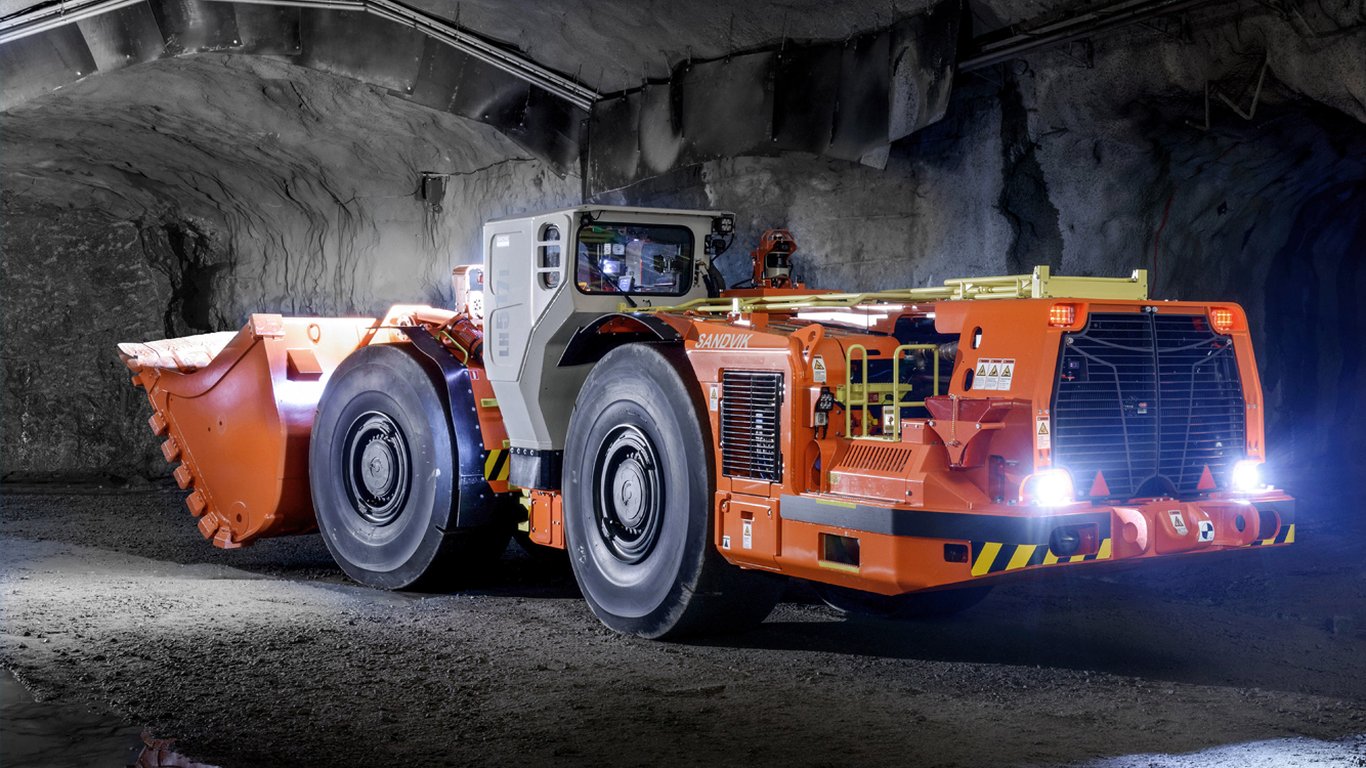 Sandvik LH517i – Adding intelligence to every model
Sandvik LH517i is a 17-tonne underground loader. The development team went beyond the existing customer feedback process and held a series of customer forums in Australia, Europe and South Africa to truly dig into the details of customer needs. Important features that have come directly from these forums include a focus on the ease of maintainability and good operator ergonomics.